The Washington Wizards plan to go from bottom dwellers to playoff contenders this season with a healthy John Wall in place for the long term and key players joining the team this summer.
Wall is enthusiastic for the chance to get his first taste of playoff action and he knows what it is going to take.
"Main thing for us is just going in healthy, and just get off to a great start," Wall said Thursday at a news conference announcing his five-year, $80 million contract extension.
"We know what it takes going into a season, and I know what it takes to win."
The Wizards have not made the postseason in five years, but their hope is with their franchise player locked in for the next six years and the additions made this offseason, the team will break into the playoff hunt.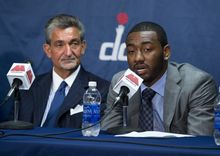 Wall has averaged 16.9 points and eight assists in his three years as a Wizard. Injuries forced him to sit out for a large portion of last season, as he only participated in 49 games.
Washington finished last season 29-53, but went 24-25 (including 14-12 against playoff teams) after Wall rejoined the lineup. Before Wall's Jan. 12 return, the Wizards were only 2-18 against eventual playoff teams.
"It's been an up-and-down road for us," Wall said. "[Owner] Ted Leonsis told me it was going to be tough times. Tough times don't last long, tough people do."
Leonsis made it clear the team wanted to lock Wall in and did not leave any question who the franchise's centerpiece is.
"To be able to now secure his services for five years plus the year that he's playing this year really gives the fan base, the team, the coaching staff, the wherewithal to know that we'll have stability," Leonsis said, "and that we can continue to build systematically around what John's gifts and skills are."
Wall and the Wizards are satisfied with how the roster has evolved this offseason. The additions of Otto Porter and Eric Maynor, along with the retention of Martell Webster, should open up lanes for Wall and Bradley Beal.
Washington added Maynor earlier this offseason as a backup point guard who will be able to act as a security blanket, but coach Randy Wittman also plans to play them alongside one another.
"That's all I really need is a guy that is capable of making shots," Wall said of his supporting cast.
Now a max-contract player, Wall has been working on several facets of his game this offseason. Not only has he improved his jump shot, which has been one of his biggest struggles, he said he has worked on a floater and also plans to work out with retired NBA great Gary Payton later this summer.
The improvements will be much anticipated as Washington has hopes of having its first winning season with Wall at the helm.