The Obama administration departed from its drone strategy when it filed secret criminal charges against men suspected of carrying out last year's attack in Benghazi, Libya, but the tactic works, analysts say, only if the U.S. can get its hands on the men.
President Obama publicly acknowledged the secret charges in a news conference Friday but would reveal no other details — though sources said the sealed indictment named Ahmed Khatallah, a Libya militia leader.
One congressman has called for the U.S. to send an assassination team after Mr. Khatallah, while another option would be to send a special operations forces or other clandestine team into Libya to extract him.
Doing so, however, may carry the equally obvious risk of triggering the same sorts of headaches — collateral civilian casualties and anger among host country leaders — associated with the administration's policy of simply killing terrorist suspects with drones.
How the White House proceeds with the case may well set a precedent in a war that has been defined by legal chaos and a search for an appropriate level of military action.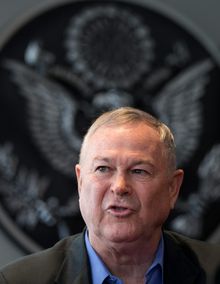 "The reason we drop drones on people is that they pose a threat and we can't get to them in any other way," said John B. Bellinger, a Washington lawyer who served as a legal adviser for the State Department and the National Security Council during the George W. Bush administration.
"How do we now actually arrest him and bring him back?" Mr. Bellinger said. "We could try to cajole the Libyans into arresting him and turning him over. We could also send in U.S. special forces, but that would conceivably create some serious issues with the Libyans."
The latter approach, Mr. Bellinger said, carries a high risk of devolving into a firefight.
A complicated case
Mr. Khatallah's name first surfaced in international news reports during the days and weeks after the attack, when Libyan sources said he could have been a ringleader on the night of the Sept. 11 attack that killed U.S. Ambassador J. Christopher Stevens and three other Americans.
During the months after the attack, Mr. Khatallah gained notoriety by granting brazen interviews to The New York Times and CNN in which he claimed that no authorities had ever questioned him.
At his news conference last week, Mr. Obama was asked why nobody had been brought to justice for the Benghazi attack 11 months after it occurred.
"I also said that we'd get bin Laden and I didn't get him in 11 months," Mr. Obama replied, adding that getting those responsible for the attack "remains a top priority for us."
Mr. Khatallah is suspected of involvement in several Islamist groups in Benghazi, including Ansar al Shariah, and analysts said he can be expected to take a violent stand if approached suddenly on his own turf by U.S. military or law enforcement authorities.
"Apprehending him is absolutely potentially complicated," said Dell Dailey, a retired Army general who headed the Joint Special Operations Command during the years following 9/11 and later the State Department's Bureau of Counterterrorism.