A UPS plane crashed during its approach at a Birmingham, Ala., airport early Wednesday morning, killing both pilots aboard, Federal Aviation Administration authorities said.
The identities of the pilots haven't been released.
FAA spokeswoman Kathleen Bergen told The Associated Press that the plane wreck took place just before dawn. Hours later, the debris was still smoldering.
The nose had completely detached from the body of the craft, Fox News reported.
The Birmingham Airport Authority said in a CNN report that the wreck took place in a field just outside the fenced area of Birmingham-Shuttlesworth International Airport.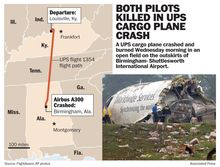 The craft was an A300, traveling from Louisville, Ky. It's not known what the plane was transporting, and UPS spokesman Jeff Wafford said in a Fox News report only that it was carting a variety of items.