Egyptian security forces deployed snipers, tear gas and bulldozers Wednesday to break up two sit-ins by supporters of ousted Islamist President Mohammed Morsi, in an assault that claimed more than 500 lives, drew swift international condemnation and led to the resignation of the vice president in the military-backed interim government.
Mr. Morsi's Muslim Brotherhood planned to hold a prayer service to mourn the victims and protest marches in Cairo and Alexandria on Thursday.
Interim President Adly Mansour imposed a monthlong state of emergency and nighttime curfew in Cairo and 10 provinces, giving security forces the power to detain civilians without charge.
---
SEE ALSO: Obama's foreign policy fails to gain footing in renewed Middle East
---
There were conflicting reports on the death toll.
Egypt's Health Ministry said on Thursday that at least 525 civilians had been killed and more than 3,700 injured. The Interior Ministry said 43 policemen had also been killed.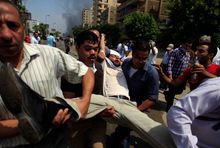 Gehad El-Haddad, a spokesman for the Muslim Brotherhood, told The Washington Times more than 4,000 people had been killed.
---
PHOTOS: Shocking moment: Egyptian protestors push occupied armored police vehicle off bridge
---
Secretary of State John F. Kerry denounced the violence as "deplorable." He called the police crackdown "a serious blow to reconciliation" between Mr. Morsi's supporters who want him reinstated and millions of Egyptians whose protests of Mr. Morsi's increasingly authoritarian policies led to the military's July 3 overthrow of the democratically elected president.
"Egyptians inside and outside of the government need to take a step back," Mr. Kerry said. "They need to calm the situation and avoid further loss of life."
White House spokesman Josh Earnest urged the government and the protesters to end the violence. "The world is watching what is happening in Cairo," he warned.
U.N. Secretary-General Ban Ki-moon and European officials also condemned the violence.
Conflicting charges
The crackdown in Cairo sparked violence in other parts of Egypt. Mr. Morsi's supporters attacked government buildings and burned at least seven Coptic Christian churches, Egyptian officials said.
Egypt's interim Prime Minister Hazem el-Beblawi said in a televised address that the decision to end the 6-week-old sit-ins was not easy. Interior Minister Mohammad Ibrahim blamed the protesters for the violence and said police had orders not to use live ammunition.
However, Mr. Ibrahim's claims were disputed by Egyptians who said snipers shot Morsi supporters in the head, neck and chest in a clear sign that they intended to kill. They distributed photos of bloodied victims, but the authenticity of those images could not be verified immediately.
Amnesty International said Egyptian authorities' promises to "use lethal methods only as a last resort to disperse protesters appear to have been broken."