Boston Marathon bombing victim, 7, returns home minus left leg
A 7-year-old girl, Jane Richard, who lost her left leg in the Boston Marathon terrorist attack — which also killed her 8-year-old brother, Martin — returned home Thursday with a new prosthetic, a new lease on life and, her family says, as an "incredible source of inspiration."
"Jane continues to be an incredible source of inspiration, and exhaustion," her mother, Denise, said in The New York Post. Denise lost sight in one eye from the bombing attack, and her husband, Bill, lost partial hearing. "The loss of her leg has not slowed her one bit or deterred her in any way."
---
PHOTOS: Dzhokhar Tsarnaev manhunt photos: The amazing police pictures
---
Still, the loss of Martin, the youngest fatality in the bombing, haunts.
"An hour doesn't go by that we don't feel the agony of Martin's death and the senseless way it came about," the family said, in a statement. "The pain is constant and even the sweetest moments can be heartbreaking when we are struck by the realization that 'Martin would have loved this.' "
But hope conquers, they said. And watching Jane learn to walk all over again is a source of strength.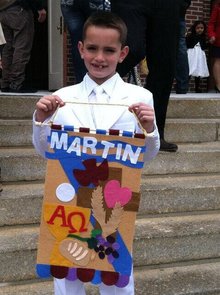 Martin Richard, 8, was killed in the explosion at the Boston Marathon. ... more >
The Post reported that Jane didn't learn of her brother's death until two weeks after the attack. She spend weeks in a Boston hospital recovering, being fitted for a fake leg and learning to walk on it.
© Copyright 2013 The Washington Times, LLC. Click here for reprint permission.
About the Author
Cheryl Chumley is a continuous news writer for The Washington Times. Previously, she was part of the start-up team for The Washington Times' digital aggregation product, Times247. She's also a 2008-2009 Robert Novak journalism fellow with The Phillips Foundation. She can be reached at cchumley@washingtontimes.com.
Latest Stories
Latest Blog Entries
Commentary
By Michael P. Orsi

Edward Snowden should declare his patriotism in court
Independent voices from the The Washington Times Communities
Southern Fried Politics from the Lens of a Persian-American Millennial
All of the world's problems, solved on your back porch
Paul Rondeau exposes the propaganda, media tricks, and government policies that undermine our families, faith, freedom…and even life itself
Implement these actionable tips, how-to's and best practices in 10 minutes or less to leverage online communications and technology for brand, business and career development.