Finally a free agent after seven years as a defensive end in the NFL, Darryl Tapp expected he'd draw some interest.
After four seasons in Seattle and three in Philadelphia, the former Virginia Tech standout had established himself as a reliable pro. He had seven sacks the only season he started every game for Seattle, and 24 for his career. He had eight career fumble recoveries.
He'd find a good spot.
---
SEE ALSO: Washington Redskins vs. Buffalo Bills: 5 Questions
---
The call he got, though, was not one he expected.
"The Redskins were the first team to call me," Tapp, who is from Chesapeake, Va., said. "I would have never imagined the Redskins would call me because they've used a 3-4 defense the past three years and I've always been a 4-3 end. It was a shock they wanted to bring me in for a visit."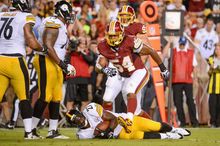 The shock was a pleasant one. Tapp, 28, grew up a Redskins fan. The team plays closer to his childhood home than he'd played before. If they wanted him to be part of a three-man defensive line, he'd figure it out. But that's not what they wanted. The Redskins had him meet with coach Mike Shanahan, defensive coordinator Jim Haslett and linebackers coach Bob Slowik. They saw him as an outside linebacker in their system.
"I felt good here. I felt home, not only being a Redskins fan but with what they envisioned me doing," Tapp said. "So I jumped on it."
With the season-opener 17 days away, against Tapp's previous team, it is fair to say the transition is going well. Tapp has found being an outside linebacker in a 3-4 is very similar to being an end in a 4-3. He doesn't start plays in a three-point stance. He has more coverage responsibility. It is a change, sure, just not as drastic as it may sound.
"I don't know if it is something that is natural to me or I'm getting great coaching or a combination of both," Tapp said. "But it has been kind of fluid going from defensive end to a linebacker spot. The biggest thing in this defense is to make sure I'm speaking the same language as my 10 teammates on the field and my responsibilities in coverage.
"As an end, I would drop to a little zone here and there but most of the time it was rushing the passer and stopping the run. Now I'm doing that and dropping into coverage. I could be covering a tight end or a running back or even a receiver in some situations. That's probably been the biggest transition, but I'm getting great coaching and it is coming real easy."
At 6-1 and 270 pounds, Tapp has the size and strength to deal with linemen. He's quick enough to handle most pass coverage situations. His coaches practically gush at the adjustment he's made to a different position.
Slowik said Tapp "is a pro. He knows how to line up on a tight end or a tackle and win, as far as using his speed, his power, his strength. He's a guy who surprises you with his dropping. It is not looking like he's out of place."
Haslett was particularly effusive, calling it "kind of amazing that he can pick up things this fast. He is a force in the run game. I feel sorry for tight ends when they practice against him because he just beats the heck out of tight ends — he's awesome that way. And he's getting better in coverage. Loves the game, studies, doesn't like making mistakes, great to be around.
"I mean, I love the guy. I think the guy's going to be a heck of a player — already has been, but will be in this system."
Tapp joined a team that already had pretty solid outside linebackers in Brian Orakpo and Ryan Kerrigan. "Awesome outside linebackers," Tapp said. He's listed behind Kerrigan on the depth chart but started alongside him in the second preseason game when Orakpo was sidelined with a minor thigh injury.