Gay-marriage advocates are on the move this fall, pressing their advantage in the wake of favorable court rulings and sympathetic public officials.
In some cases, gay couples and officials are not even waiting for laws to change.
"Who's going to make history?" The Campaign for Southern Equality said in a video about its strategy to find "a local elected official in the South who will grant a marriage license to a LGBT couple because it's the right thing to do."
The gay-rights group said its members would be "barnstorming North Carolina" to find such a friendly official; last week, longtime lesbian couple Amanda Hilty and Loraine Allen asked for a marriage license from Madison County Register of Deeds Susan Rector, but she said no, citing state law.
Ms. Hilty and Ms. Allen were hoping Ms. Rector would follow in the footsteps of county clerks in Pennsylvania and New Mexico, who have started issuing marriage licenses on their own authority to gay couples.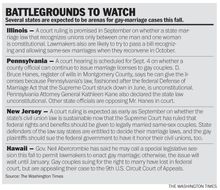 On Sept. 4, Pennsylvania state officials are due in court to stop D. Bruce Hanes, register of wills in Montgomery County, from issuing such licenses.
Mr. Hanes said in a legal brief that only the Pennsylvania Supreme Court has power over him.
He said his authority to issue marriage licenses to gay couples came from a legal review of the U.S. Supreme Court's June ruling in the case of U.S. v. Windsor — which struck down part of the federal Defense of Marriage Act — and Pennsylvania Attorney General Kathleen Kane's decision not to defend Pennsylvania's law because she, too, deemed it unconstitutional. "I decided to come down on the right side of history and the law," Mr. Hanes said in July.
Dona Ana County Clerk Lynn Ellins in New Mexico echoed those sentiments as he began issuing marriage licenses to gay couples. "We're open for business. Get 'em while they're hot," Mr. Ellins told KOAT-TV in Las Cruces.
Mr. Ellins, a lawyer, said the New Mexico Constitution doesn't allow discrimination based on a person's sex.
"In my legal opinion, what we're doing is valid," he said. "I just decided it was time to stop waiting and move forward."
On Friday, a second New Mexico clerk started issuing marriage licenses to gay couples — this time at a judge's request.
New Mexico District Judge Sarah M. Singleton told Santa Fe County Clerk Geraldine Salazar that she had to issue marriage licenses to gay couples or appear in court in September to explain why she wouldn't.
Ms. Salazar chose to issue the licenses, including one to Santa Fe County Commissioner Liz Stefanics and Linda Siegle, a lobbyist for Equality New Mexico. She also issued a license to Alexander Hanna and Yon Hudson, the gay men who filed the lawsuit heard by Judge Singleton.
New Mexico Attorney General Gary King said he wouldn't stop clerks from issuing licenses, but warned that courts could find them invalid.