The White House on Tuesday began to lay out a public justification for a possible bombing of Syria, saying the nation's use of chemical weapons is a threat to U.S. interests — a scenario that opens the door to military strikes that wouldn't require authorization from Congress or the United Nations.
Spokesman Jay Carney said President Obama had not decided on military action but was conferring with lawmakers, allies and members of his national security team about the forcefulness needed to punish the Syrian government for violating international law.
"It is in the clear national security interests of the United States that the use or proliferation of chemical weapons on this scale not go unanswered," Mr. Carney said, adding that the attack was of particular concern because it took place "in this highly volatile region."
---
SEE ALSO: Syrian rebels also fighting al Qaeda, other hard-liners for villagers' hearts and minds
---
Mr. Carney did not describe the intelligence that linked Syrian President Bashar Assad to the attack or how it was a direct threat to the U.S., which would give the Mr. Obama latitude in starting a bombing campaign. But he did say the Assad regime is the only force in Syria known to have chemical weapons and the rockets that could deliver them.
He also said intelligence agencies are preparing to provide evidence of Mr. Assad's role in the attack and cited the Chemical Weapons Convention, an international arms control agreement that bans the use of such weapons. The U.S. and 188 other nations have signed the pact; Syria has not.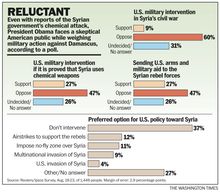 The administration is making its case to a war-weary public and is beginning to meet resistance from Congress, where Democrats and Republicans say the president needs to be more transparent about a military strike on a country that has not attacked the U.S.
---
SEE ALSO: Syrians vow to 'burn America's skies' on Obama's Facebook
---
"Before any action is taken regarding Syria, it is imperative that President Obama make the case to the American people and consult with Congress," said Sen. John Cornyn of Texas, the second-ranking Republican in the Senate. "He needs to explain what vital national interests are at stake and should put forth a detailed plan with clear objectives and an estimated cost for achieving those objectives."
An Aug. 21 attack near Damascus reportedly killed more than 300 civilians, including women and children, and powerful photos and video later showed bodies laid out shoulder to shoulder with no visible wounds — which the rebels said showed chemical weapons were used.
The regime of Mr. Assad has denied that it used chemical weapons, but others, including humanitarian groups and journalists in Syria, say it was undoubtedly a chemical attack.
On Monday, Secretary of State John F. Kerry said it was undeniable that the regime had used chemical weapons and called the act a "moral obscenity."
But on Tuesday in Damascus, the state-run Syrian Arab News Agency issued a statement accusing Mr. Kerry of citing "fabricated" evidence and saying he was "jumping over" the work of U.N. inspectors, showing that the U.S. intended to exploit events.
Also, Syrian Foreign Minister Walid al-Muallim said the Assad government was not obstructing the work of U.N.-backed inspectors trying to examine the scene of the attack. But he later announced that a second day of inspections would be pushed back a day. Mr. al-Muallim cited disputes among groups of rebels as the reason for the postponement.
He vowed that the Syrian army would carry out its campaign against the rebels despite the threat of foreign strikes, which he said would only serve interests linked with al Qaeda.
Despite that defiant talk, pressure continues to build on Syria. The Arab League issued a statement Tuesday saying it holds the Syrian regime responsible for the chemical attack.
British Prime Minister David Cameron, who has spoken with Mr. Obama in recent days about a coordinated response, said the allies are not looking to get involved in another war in the Middle East. But he said the international community cannot allow a chemical weapons attack to go unpunished.