Jake Snyder said it was the little things that prevented Virginia from being an 8-4 team in 2012, as opposed to the one that finished 4-8.
The senior defensive end has a point. Botched plays, missed assignments and critical turnovers indeed played key roles in scuttling the Cavaliers this past season. It also led Virginia to hang the "help wanted" sign outside Scott Stadium.
Virginia coach Mike London, sitting squarely on a hot seat, turned over his staff following the disappointing campaign. Now, with a little help from an old friend, he is hopeful the Cavaliers are back on track.
Former Colorado State coach Steve Fairchild takes over as offensive coordinator after a season as a senior offensive assistant for the San Diego Chargers. He will be joined by Tom O'Brien, the former N.C. State coach and one-time Virginia assistant who once hired a young London to join his staff at Boston College.
Longtime assistant John Tenuta also arrives in Charlottesville from N.C. State to take over as defensive coordinator. Together, the trio brings a wealth of experience and a welcome change of pace to the Virginia staff.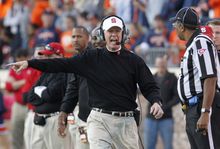 "It's no secret that when coach O'Brien went to Boston College, I was on his staff," London said. "He's done it at Boston College and N.C. State. I think having the prior relationship with him at Virginia … provided an opportunity for him to say yes to come back at this point and time in his coaching career."
O'Brien's primary areas of responsibility will be tight ends and the offensive line, where he is instilling new blocking schemes, something senior tackle Morgan Moses said has reinvigorated the unit.
"He really does bring much more to the team," Moses said. "As an offense, we just look up to coach O'Brien as well as Steve Fairchild because those guys have been around for so long. We will take a lot from them and use it on the field."
While Fairchild and O'Brien will provide a stabilizing influence on the offense, Tenuta's demeanor and philosophy promise to shake up the defense.
"Just the way coach Tenuta coaches and calls plays … he's aggressive, he likes to get after the quarterback and create turnovers and put pressure on and that's fun for us," Snyder said.
Snyder added that the biggest difference will come on third down. In the past, the Cavaliers often sat back and read the offense. Not so in 2013.
"We're going to go after it this year and be the aggressor," Snyder said. "That's the mindset we've taken. We'll be the aggressor. We're coming out and throwing the first punch and we'll get after you early."
The Cavaliers' early season schedule also could be described as "aggressive." Virginia will open Saturday with BYU, whose defense ranked fourth in the nation a year ago. Next up is national title contender Oregon on Sept. 7. Both games will be in Charlottesville.
"The day that schedule came out, we were in the weight room and we were all fired up," Snyder said. "There was a little extra energy in the weight room that day."
London considers the two games to be a measuring stick for the program.