Early in Wednesday's broadcast of the Nationals' latest loss to the Braves, color man F.P. Santangelo made a point. It wasn't about the division or the playoffs anymore. It was about showing a little heart, about not letting a team come in and sweep you at home.
Which, as we now know, is exactly what happened. The Nats lost again, allowing the Braves to complete their second sweep this season in D.C. Another game in which the Nats had chances, another game lost anyway.
Welcome to the 2013 version of the Nationals, where heart and now hope have vacated the building. Get off the talk of a playoff push, for the division and the wild card. It isn't going to happen. The Braves now lead the Nats by a staggering 15 games. The best guess is the deficit will get bigger, not smaller, by season's end.
---
SEE ALSO: As Davey Johnson nears exit, Mike Rizzo has decision to make
---
Just getting back to the .500 mark is a big enough task. Playoffs? Playoffs? Not a chance.
Oh, how the briefly mighty have fallen. That the Nats might not be as good as last year, that they might miss the playoffs, isn't the point. That they've been beaten into total submission in early August is mind-boggling.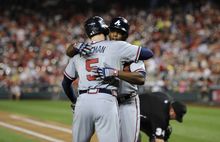 Some of the numbers involved here are stunning, starting with that 15 1/2 game deficit. The Nats need a pretty high-powered telescope to even see the Braves now. Swept twice at home this season. Atlanta is 10-3 against Washington this season and 14-3 in the past 17 going back to last season. To suggest Washington is anywhere close to Atlanta is ridiculous. The teams aren't even in the same stratosphere.
Go look at the other five divisions — if you add up the leads of the first-place teams, it comes to 16 1/2 games. To be down 15 1/2 in your own division is absurd beyond description.
Before looking at what the Nats might do the rest of the way, let's look at what they better not do: whine. Yes, they've had their share of injuries and of players not performing to the levels they should. Who had Danny Espinosa, Tyler Moore and Drew Storen in the minors at this point, and deservedly so?
That happens to every team, good and bad. The good teams find ways to work around it.
For a good example, the Nats need to get out their high-powered scopes and zoom in on the Braves. Atlanta has two regulars (Dan Uggla, B.J. Upton) hitting below .200. It lost key relievers Jonny Venters and Eric O'Flaherty to Tommy John surgery. Brian McCann, Freddie Freeman, Evan Gattis and Jason Heyward have all done time on the disabled list.
The Braves also lost starting pitcher Tim Hudson, a revered and respected veteran leader, to an ankle injury. His career may be over.
All the Braves have done is become one of three teams to hit the 70-victory mark. They're 38-15 at home. They've won 13 straight. They seem to have adjusted pretty well to all the adversity.
What can the Nats do at this point? They have to keep playing. Unlike NASCAR, baseball doesn't allow you to just park and quit when things aren't going well.
For starters, manager Davey Johnson should resign now instead of at the end of the season as planned. He's 70 and after this season, he's starting to look like he's 170 and sound like he's 270.
Let's be brutally honest. If you think Johnson hasn't checked out already, you haven't been paying attention. Odd decisions. Nonsensical explanations. Where in the name of quality managing was relief pitcher Tyler Clippard on Wednesday night?