National Zoo's female giant panda cub finally gets a name: Bao Bao
One of the District's youngest and most famous celebrities got a name Sunday, as hundreds of giant panda fans and local dignitaries gathered at the National Zoo for a ceremony that christened the 100-day-old panda Bao Bao.
Cheers, applause and gasps of excitement came from the large crowd, many of whom had been standing on line since sunrise, as officials unveiled the female giant panda cub's moniker in the early afternoon. The name means "precious" or "treasure" and was the most popular name out of a monthlong online poll that collected more than 123,000 votes from around the world.
---
PHOTOS: Take a bow, Bao Bao — the National Zoo's new panda poses for the cameras
---
"We all feel very much like proud parents," said Kerri-Ann Jones, assistant secretary of the Bureau of Oceans and International Environmental and Scientific Affairs. "It's inspiring to see this strong little cub."
Bao Bao was not present for her naming, but the audience was treated to the live video stream from one of the zoo's cameras that is trained 24/7 on the cub and her mother, Mei Xiang.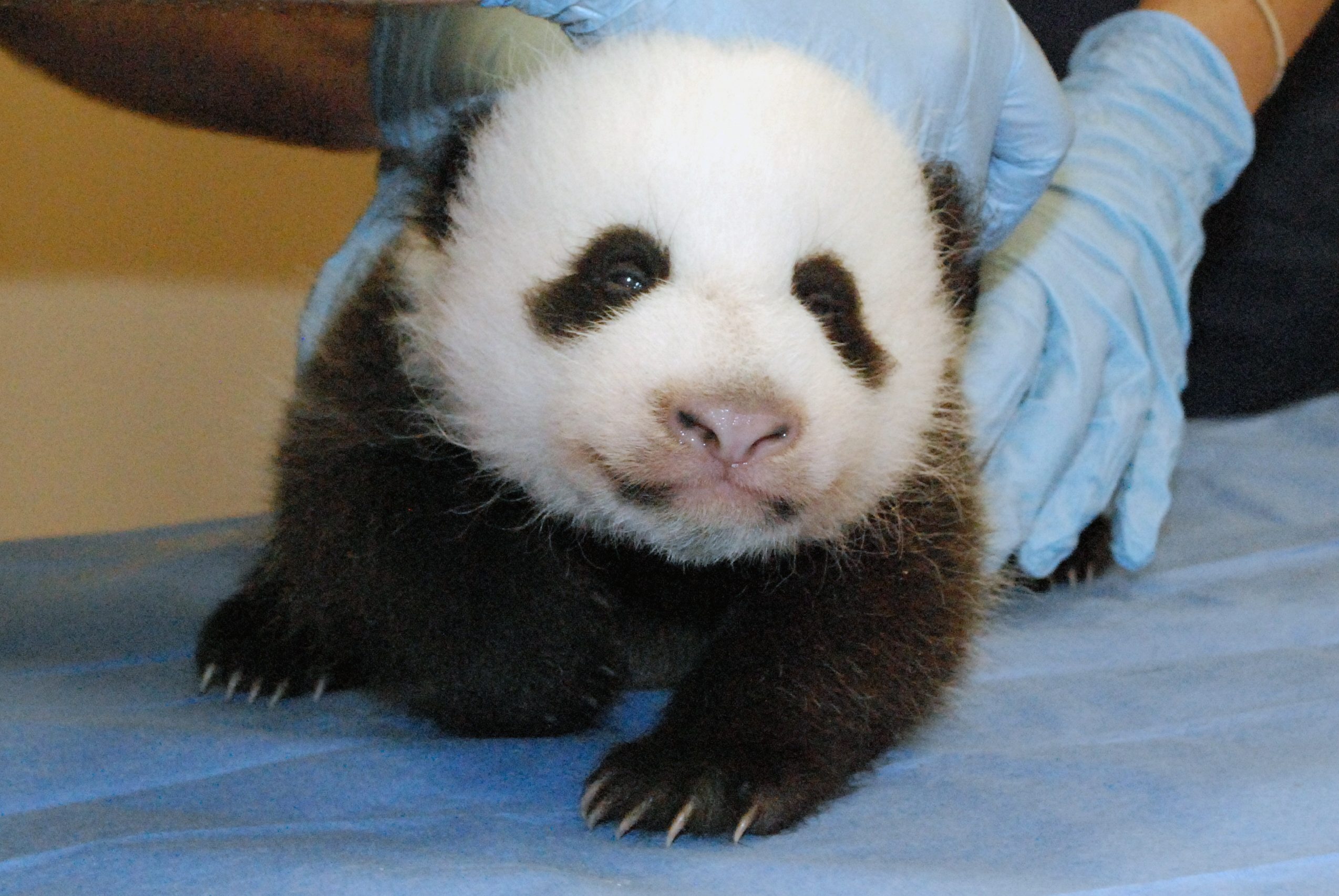 Zoo officials said Bao Bao would likely make her public debut early next year.
The 100-day naming ceremony follows Chinese tradition, explained Cui Tiankai, the People's Republic of China's ambassador to the United States.
"The 100-day celebration is very unique and of special importance," he said. "It represents the wish that the baby grows up happy and in good health and lives more than 100 years."
---
SEE ALSO: National Zoo taps into local growers to keep pandas well-fed
---
Bao Bao is the daughter of the zoo's resident adult giant pandas, Tian Tian and Mei Xiang. She was born Aug. 23, helpless, hairless and roughly the size of a stick of butter. Throughout the past three months she has grown to weigh more than 11 pounds and is learning how to walk.
And if the size and energy of the crowd attending her naming ceremony is any indication, Bao Bao is shaping up to be at least as popular as her older brother, Tai Shan, who now resides in China but spent four years delighting National Zoo visitors.
One of the first in line for the naming ceremony, Arlington resident Karen Wille said she visited Tai Shan every weekend with a group of fellow giant panda fans when he was living at the National Zoo and has visited him four times at his home in China.
"We still came back to see mom and dad," said Ms. Wille, 59, the sun glinting off her studded panda earrings.
When Bao Bao was born, Ms. Wille said she faithfully monitored the cub's development via the zoo's Panda Cam and met up with a handful of her friends for Sunday's naming ceremony.
"Every baby born is another panda to help the future of the others," Ms. Wille said.
View Entire Story
© Copyright 2014 The Washington Times, LLC. Click here for reprint permission.
About the Author
Latest Stories
Latest Blog Entries