Maryland's gun laws are the fourth most stringent in the country, according to a national gun control advocacy group, the result of new legislation requiring a handgun license and fingerprinting that supporters said will help keep firearms out of the wrong hands.
The Free State received an A-minus from the Brady Campaign to Prevent Gun Violence and a score of 80.5 points out of 100 for its gun control efforts this year, marking a three-space jump from last year in what advocates called "tremendous progress" for the state.
"It's a big move," said Vincent DeMarco, president of Marylanders to Prevent Gun Violence and the Maryland representative for the Brady Campaign. "There's a big gap between the top six or seven states and everybody else. Maryland is now within the top tier that really do keep guns out of the hands of criminals."
The Brady Campaign ranked California as the state with the strongest gun laws, followed by Connecticut and New Jersey. New York was in fifth place behind Maryland. The states with the lowest scores — each of which scored an F grade — are Vermont, South Dakota, Wyoming, Alaska, and Arizona in 50th place with a curved score of six points. The District was not included on the list, and Virginia ranked 21st with a score of 21 points.
Laura Cutilletta, senior staff attorney at the Law Center to Prevent Gun Violence — which partnered with the Brady Campaign to produce the rankings — said the grades are based on the rate of gun-related deaths, state gun laws and bills moving through legislatures.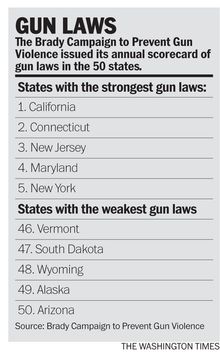 Maryland scored well in classification of weapons due to recently enacted limits on magazines and its regulation on gun sales and transfers. The state scored six out of 11 points for its background checks.
"The policy we have given weight to is background checks," Ms. Cutilletta said. "When you look at the numbers, 40 percent of guns are purchased from a private seller. That's like saying for every 10 passengers at an airport, six went through the metal detector while four are allowed to walk on the plane. It's a huge loophole that's just so dangerous and alarming."
Where Maryland legislation stumbled in its score, Ms. Cutilletta said, was the "point of purchase" background check, which applies to handgun sales "but should apply to long guns as well."
Maryland's act took effect in October and includes a fingerprint requirement, limits handgun magazines to 10 rounds and adds 45 guns to a list of banned assault weapons.
Gov. Martin O'Malley, a Democrat, proposed the bill a month after the mass shooting at Sandy Hook Elementary School in Connecticut.
The proposal was one of several pieces of legislation proposed after the shooting, including measures adopted in California, New York and Colorado — the site of a mass shooting at a movie theater in July 2012.
Maryland gun owners, stores and firearms advocacy groups are seeking to overturn the regulations, which face a legal challenge early next year.
Steve Schneider, owner of Atlantic Guns and spokesman for some of the firearm advocacy groups involved in the legal challenge, called the law a "tremendous roadblock for people."
In a statement to members, John Josselyn, legislative vice president for the Associated Gun Clubs of Baltimore, pointed out that Baltimore had surpassed the 217 homicides reported in 2012, and local gun advocates were failing to admit that "draconian" gun laws were not reducing violence in Maryland.
"Onerous gun control laws impact only the law-abiding citizens," Mr. Josselyn said. "Making honest citizens less able to defend themselves, does not make them safer; however, gun control laws do make the criminals safer."