Beneath the soaring stone arches of the Washington National Cathedral, Nelson Mandela was remembered as a humble leader, unbroken prisoner, a catalyst for change and global inspiration.
Hundreds of people joined foreign dignitaries, civil-rights leaders and the vice president of the United States on Wednesday to pay tribute to Mr. Mandela.
Addressing the large crowd, many of whom wore dark dresses and suits or traditional South African clothing, Vice President Joseph R. Biden Jr. recalled his visit to South Africa as a senator. Mr. Biden told those gathered that the United States mourned with South Africa "the loss of a truly extraordinary man. The most impressive man or woman I've ever met in my life."
"President Mandela taught us trust is possible, reconciliation is possible, justice is possible, change can come," Mr. Biden said. "Thank God for Nelson Mandela, the man who did what seemed impossible — for if it can be done once, it can be done again. So many places in the world need the spirit of Nelson Mandela."
Mr. Mandela died Dec. 5 after a long illness. He was 95. His body is lying in state for three days in Pretoria, the South African capital, before his burial Sunday in his homeland.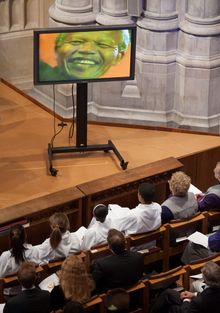 The cathedral's Bourdon Bell, which is rung during funerals, tolled several times throughout the memorial service's opening prayers. Choirs from Maryland, California and South Africa sang hymns and songs, as people cheered and clapped to the rhythm. Peter Yarrow and Noel Paul Stookey, two-thirds of the group Peter, Paul & Mary, led a singalong of their anthem "No Easy Walk to Freedom."
Ebrahim Rasool, ambassador of the Republic of South Africa, thanked everyone "for taking the time to honor this African son."
"Nelson Mandela is not a flitting meteor but a fixed star," Mr. Rasool said. "A star that guides our vision and gives us relief, directs our efforts and keeps us hopeful in confusing times."
Born in 1918, Mr. Mandela, a lawyer by profession, drifted toward opposition to his country's apartheid regime, which forcibly segregated South Africans by the racial qualifications of white, black, mixed-race and those who traced their heritage to India.
He was a prominent member of the African National Congress, which originally adopted a policy of passive resistance against apartheid but later embraced violence against the military and white civilian targets.
He was imprisoned for 27 years, released in 1990 and went on to serve as South Africa's president from 1994 to 1999.
Mary Frances Berry, a Geraldine R. Segal professor of American social thought at the University of Pennsylvania and a civil rights advocate, said she remembered Mr. Mandela as "the imprisoned freedom fighter."
"When he was released, he was ready," she said. "He was still as warm and engaging as he was when he went to prison. He had become serene though, more thoughtful, strategic. He used his time, he did not let time use him."
William Lucy, president emeritus for the Coalition of Black Trade Unionists, called Mr. Mandela a comrade, who's "struggle for fairness became the world's struggle."
Mr. Mandela inspired workers in South Africa, Mr. Lucy said, as well as auto workers in Detroit, miners in Appalachia and longshoremen in New York.