Chevron Corp.'s environmental opponents won a round in their long-running legal battle against the oil giant Tuesday, as a Canadian court upheld their bid to try to seize Chevron assets in Canada to enforce a $9.5 billion Ecuadorean court judgment over pollution in the Amazon rain forest.
"The Ecuadorean plaintiffs should have an opportunity to attempt to enforce the Ecuadorean judgment in a court where Chevron will have to respond on the merits" of their case, said a three-judge panel of the Court of Appeal in Ontario.
The panel also ordered Chevron to pay $100,000 in litigation costs to the coalition of Amazon native groups and environmentalists that sued the company for dumping toxic oil waste in the rainforest decades ago.
The Ontario case is separate from the New York Manhattan court drama where Chevron is seeking to prove that the human rights lawyer who brought the Amazon case tainted the 2011 Ecuadorean court judgment with fraud by manipulating evidence, engineering the verdict and paying off a judge.
Amazon native groups, which claim that Chevron's actions caused severe health problems and deaths in their communities, celebrated the Canadian court order.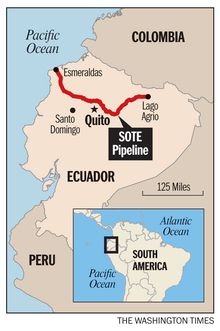 Since Chevron has refused to pay the settlement and no longer has assets to seize in Ecuador, the native groups are seeking to win enforcement of the judgment in Argentina and Brazil as well as Canada.