Once entrenched as second only to Texas in its use of the death penalty, Virginia has dramatically scaled back the number of executions it has performed in recent years — a trend that seems unlikely to change amid a national downturn in the use of capital punishment.
Virginia carried out the death penalty in just one case this year, after no one was put to death last year.
Overall, the United States this year recorded the second fewest number of executions since 1995, with 39 inmates put to death as of Thursday, according to figures compiled by the Death Penalty Information Center. Nine states have carried out executions in 2013, and no more are expected before the end of the year.
In Virginia, once renowned for the speed and efficiency of prosecutions and appeals in capital cases, the steep drop in executions is more pronounced.
Just five death sentences have been carried out under Gov. Bob McDonnell, a Republican and a former prosecutor and attorney general. That number is the lowest of any Virginia administration since the 1980s and less than half the 11 executions performed under Mr. McDonnell's predecessor, Democrat Tim Kaine — an opponent of capital punishment who defended death row inmates as a pro-bono lawyer.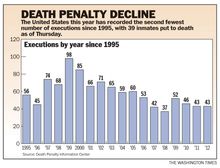 Virginia has executed 110 convicts since 1976 — the year the Supreme Court reaffirmed legality of the death penalty after having placed an effective moratorium on capital punishment in 1972.
Since then, the number of yearly executions peaked nationwide in 1999 with 98 convicts put to death.
That same year, 14 death sentences were carried out in Virginia under Gov. James S. Gilmore III. His administration oversaw 37 executions.
Now, with declining rates of violent crime across the nation and a shifting political landscape in the state, Virginia could soon be overtaken in the total number of executions.
Texas again led the country with the most executions, this year putting to death 16 convicts — one more than last year. Oklahoma carried out six executions this year and last year, leading to a total of 108 executions since 1976, according to the center.
"They will surpass Virginia," said Richard Dieter, executive director of the Death Penalty Information Center. "Virginia has been a strong change. I think at some point the debate might be, 'If we aren't using it, why have it on the books?'" he said. "But that's down the road a bit in Virginia."
Mr. Dieter said crime has become less of a priority for the public since the 1990s and the death penalty has become "less relevant" as a result.
He also said prosecutors know the difficulty of securing a death penalty conviction in Northern Virginia, a densely populated Democratic enclave in the D.C. suburbs.
Stephen A. Northup, executive director of Virginians for Alternatives to the Death Penalty, said he thinks the main reason the number of executions has fallen off is the creation of the Capital Defender Office — a branch of the Virginia Indigent Defense Commission created in 2004 that oversees and maintains standards for public defender offices that handle capital cases.
"Capital defendants began to get good, effective, knowledgeable capital defenders and it's a lot harder for prosecutors to win those cases now than they used to be," Mr. Northup said.