'The Gershwins' Porgy and Bess" will be performed at the National Theatre Christmas week, the same time "Elf the Musical" is at the Kennedy Center and the Washington Ballet's "The Nutcracker" is at the Warner Theatre.
At first glance, a show about addiction, abusive relationships and a natural disaster might not be the most natural fit for the holiday season. Yet Sumayya Ali, who will play the role of the struggling young mother Clara in the production, argues that in an unexpected way, "Porgy and Bess" might be the perfect show for Christmas.
"It's not as jolly as 'White Christmas,' but it's transforming," said Miss Ali. "You will leave a different person. It shows the power of love, and it shows the power of second chances and transformation. Sometimes you just go to a show for entertainment, but sometimes you go for a show that will change how you think or how you live your life and will make you value your loved ones. That's what's so special about 'Porgy and Bess.' You'll be transformed."
That transforming experience will be available to audiences of every race when "The Gershwins' Porgy and Bess" is performed at the National Theatre Dec. 25-29. This fact seems unremarkable in the present day, but when "Porgy and Bess" debuted at the National Theatre in 1936, the theater had never allowed a fully integrated audience. Led by the show's star Todd Duncan, the cast of "Porgy" went on strike and refused to perform to a segregated audience, leading the theater to open its doors to a fully integrated audience for the first time in its century-long history.
The cast of the "The Gershwins' Porgy and Bess," playing in D.C. as part of its national tour following a Tony Award-winning run on Broadway, is excited to be a part of the show's proud history at the National Theatre. "It's an honor to be bringing Gershwin's work alive during this current wave of history," said Alicia Hall Moran, who plays the title role of Bess. "It's a victory for D.C., saying that it's okay to be able to retell this history that once we were segregated. It's brave of D.C. Every five years another 100,000 people in the population forget we were once segregated. In the theory of Nelson Mandela, you re-educate people, you face up to it, you heal. I expect it to be part of a healing process. It gives people a chance to relive the questions and heal in real time."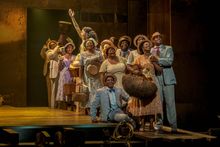 Duncan's influence on the upcoming performances of "Porgy" did not end with the desegregation of the National Theatre. One of Duncan's pupils, Samuel Bonds, was the founder and leader of the show choir at the Duke Ellington School of the Arts, where he mentored a young Miss Ali.
Miss Ali was first introduced to "Porgy" when Mr. Bonds and his wife would perform scenes from the show for Ellington students.
"Todd Duncan was a great man, and sometimes performing 'Porgy' I feel his spirit," Miss Ali told The Washington Times. "In the '30s it was harder for African-American opera singers to make it, but he made a way and gave. He championed the cause to desegregate the National Theatre, and then he went to Howard and he gave. A lot of African-American opera singers went to Europe when they faced segregation. He stayed here, and he gave. I feel so grateful, and I want my performance to be a testament that his work did not go in vain. It comes full circle."
But once Miss Moran and Miss Ali step on stage, they will put aside the show's legacy and focus instead on the rich characters they are tasked with inhabiting. Miss Ali faces a formidable challenge just moments after "Porgy" begins, when she sings "Summertime," the show's most famous song.
"I looked at the statistic, and I think it's been performed over 30,000 times," said Miss Ali. "Everyone thinks about Fantasia and Ella Fitzgerald and the geniuses who have taken on this song, and they think you have to jazz it up. I had to take myself and my ego and all my insecurities out of it and go for the truth of the matter. What matters is the story."
In playing Bess, whom she calls a "physical powerhouse of a woman," Miss Moran appreciates the freedom that comes from Diane Paulus' direction. "There's so much to look at onstage, you are being guided with lights and the narrative to look at certain characters, you get so many layers that have so much meaning on which the narrative rests," she said. "There is stuff every night that happens away from the microphone, and I hear it and it changes my show. You have to be that much better to absorb the blows and caresses as they come, that millisecond in the beat where she's supposed to touch your arm lightly but it becomes an embrace. Every night there's something magical like that."
D.C. audiences will have a chance to share in this magic, and to celebrate the rich and proud history of "Porgy and Bess" at the National Theatre.
WHAT: "The Gershwins' Porgy and Bess"
WHERE: The National Theatre, 1321 Pennsylvania Ave., NW
WHEN: Wednesday, Dec. 25th through Sunday, Dec. 29th, show times vary