They alternated, one at a time, all with the same purpose.
With a timeout temporarily halting the Dallas Cowboys' offensive surge at the Washington Redskins' 10-yard line, nose tackle Barry Cofield, defensive end Chris Baker, cornerback David Amerson and inside linebacker Perry Riley all broke into jumping jacks, and the FedEx Field crowd, drawn by the allure of the rivalry and into the magnitude of the moment, responded vociferously.
In a dwindling season of losses narrow and lopsided, with dramatics subversive and direct, this was the moment to rally around. With one stop on 4th-and-season and 1:16 remaining, the Redskins could spoil the Cowboys' fleeting quest for an NFC East title and keep them out of the playoffs. With so little to be proud of over the past four months, this could surely rank as a suitable consolation prize.
---
SEE ALSO: FENNO: Pierre Garcon's record season can't mask buffoonery around him
---
It would turn out poorly. Quarterback Tony Romo threw a touchdown pass on that ensuing play, and the Cowboys completed a come-from-behind victory over the Redskins, capturing a 24-23 win in the closing moments.
Washington has found innovative and entertaining ways to snatch defeat from the jaws of victory all season, yet it may have outdone itself on Sunday. The loss to the Cowboys marked the fifth time this season the Redskins have squandered a lead of at least a touchdown in the second half — it was nine points, which they held midway through the fourth quarter — and the second consecutive week in which they've been defeated by one point.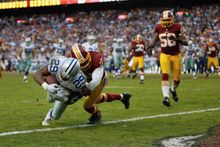 The result? A seven-game losing streak, their longest since 1998, and, now, a 3-12 record, guaranteeing the worst performance Mike Shanahan has had in his 19 full seasons as a coach.
---
SEE ALSO: Tony Romo flips the script to stun Redskins
---
"We're fed up," Riley said. "Everybody on this team is fed up at this point. We should be winning, need to be winning, and we're not winning. That's frustrating."
The Redskins have demonstrated all season long that they do not have any answers for their innumerable problems, whether they occur on offense, defense or special teams. Each unit has been to blame for their losses at different points in the season, often through remarkable and mystifying means.
On Sunday, Washington's collapse fell primarily on its defense — especially late. Though the Cowboys (8-7) committed a pair of turnovers and went three-and-out on their three possessions of the third quarter, they answered Kai Forbath's 48-yard field goal on the first play of the fourth quarter with consecutive scoring drives.
A 25-yard field goal by Dan Bailey first trimmed their deficit to 23-17 with 6:09 remaining, and a disjointed Redskins drive led to the Cowboys getting the ball back with 3:39 to play.
They needed just five plays to arrive at Washington's doorstep, including a 51-yard reception by Terrance Williams that left them facing first-and-goal at the Redskins' 4-yard line.
Running back DeMarco Murray ran the ball twice, picking up three yards on the first carry before being held to no gain on the second. On the third, he tried to run left but couldn't find a lane, and Riley, in pursuit, tracked him down for a 9-yard loss that appeared to end the threat.
"You're always trying to seize the momentum," Cofield said. "We felt like we had it, but it can change quickly — and, obviously, it did."
On fourth-and-goal from the Redskins' 10-yard line, Romo, forced out of the pocket and to his right, threw a pass to Murray in the flat.
The only open receiver, Murray beat Redskins cornerback DeAngelo Hall to the goal line, squeaking over it for the tying touchdown with 1:08 remaining. Bailey's extra point provided the one-point advantage.