'Twas the night before Christmas and all through the basilica, every creature was stirring in God's blessed house.
And on came the lights!
Like countless other houses of worship and secular and commercial establishments, the Basilica of the National Shrine of the Immaculate Conception, in the heart of Washington's historic Roman Catholic enclave of faith and education, becomes a special place this time of year. A sight to behold, its white-lighted outdoor and indoor entryways, its chapels and its below-ground crypt are beautifully appointed with clusters of hundreds of poinsettias.
---
SEE ALSO: Pope Francis' Christmas wish: Hope for a better world
---
---
PHOTOS: D.C. area offers unique displays for Christmas
---
Also numbering in the hundreds were volunteers, and they worked in unison last week to get "America's Catholic Church," the largest Roman Catholic church in the Americas, presentable for one of the holiest nights of the Christian year.
The basilica is one of the many holiday sites to behold in and around political Washington during the spirited Christmas season, when it's OK for faith, tradition and family values to meld and take center stage.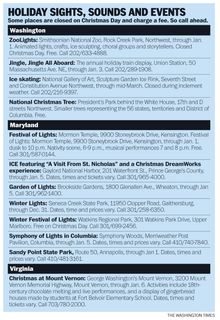 Most of the non-holiday sights and sounds of Washington — the White House, the Capitol, the monuments and museums — are seen and heard around the globe throughout the year. But at Christmastime, volunteers, people of faith and families seeking joy and laughter transform Washington into another unique city — a capital of bright lights and lighter hearts.
---
SEE ALSO: Obamas wish troops a Merry Christmas
---
Festivities of close-in environs include a Nativity ice sculpture at the Gaylord National Harbor on the Maryland side of the Potomac River and small-town shopping attractions on the other shore in Old Town Alexandria in Virginia. In between, on the Mall, there's skating at the National Gallery of Art's Sculpture Garden Ice Rink. Although the outdoor rink hardly rivals Rockefeller Center's in New York City, families and dating couples can have as good a blast in Washington as they can in the Big Apple.
In some ways, Christmastime in Washington is much the way it has been for generations. Just before Thanksgiving, hearts and minds (and wallets) turn toward thoughts of yuletide and the coming year, and even during the nation's earliest years, food, family and religious services were the season's centerpieces.
Before the Revolutionary War, for example, George and Martha Washington would depart their Mount Vernon estate to attend Protestant worship services. They later feasted with family and acquaintances at home, where one of their edible traditions was a Christmas pie of various meats and spices.
These days, Mount Vernon visitors can delight in another tradition as chocolatiers in 18th-century costume melt the luscious treat as visitors look on.
The historic site is closed on Christmas Day. Afterward, however, visitors can savor the smells of a popular spice of yesteryear, ginger, and gaze upon gingerbread houses crafted by students at Fort Belvoir Elementary School.
If you're still left feeling particularly patriotic, raise of a mug of your own variety of hot chocolate to toast Washington and his soldiers and farm boys for their valiant march to victory that began Christmas Day on the Delaware River in 1776.
Bright lights and magnificent ice sculptures lift the holiday spirits at Gaylord National Harbor across from Mount Vernon in Prince George's County, where a huge Nativity scene pays homage to the night Christ was born. Other sculptures also are displayed.
Carved by a team of 40 master ice artisans from Harbin, China, the award-winning "ICE!" display includes a beautiful angel, colorful Christmas tree replete with gifts, and two Santas — a stand-alone Kriss Kringle with arms stretched wide to greet one and all and another St. Nick riding — what else? — a sleigh pulled by reindeer.
Back in Washington, the Smithsonian Institution's National Zoological Park offers a new tradition. "Zoolights" is a glorious display of color and imagination that delights the senses with an artful mixture of some of the zoo's most popular animals, such as the famous giant pandas, tigers and rascally four-legged creatures.