MOVIE REVIEW: 'Her'
How often do you check your mobile phone each day? For many Americans, the act is now an instinct as much conscious decision. Typical smartphone users look at their devices upwards of 100 times daily, and the vast majority of adults under the age of 45 rarely leave their phone unattended for more than a few hours, according to a Facebook-sponsored online report. When the phone isn't at hand, the computer or the laptop frequently is.
This uninterrupted proximity, and the steady engagement that follows, means it's only a mild exaggeration to suggest that some of our closest relationships are with technology — the screens and systems that manage our communications, information, and by extension, our lives.
That notion is central to the high-concept premise of "Her," which cleverly posits a near future in which basically normal people have meaningful relationships with self-aware operating systems.
Basically normal may be a bit of an exaggeration: Theodore (Joaquin Phoenix), the movie's loveable and lovelorn protagonist, is an awkward nerd, with a fussy mustache and a penchant for high water pants that bag and balloon around his waist (his britches are too big for him). He's recently divorced, and struggling to date, when he installs a new OS, Samantha (voiced with marvelous delicacy by Scarlett Johansson), an intelligent and sensitive presence who lives in his computer and phone, speaking privately to him through a tiny earpiece. They enjoy each other's company, and quickly become something more than friends.
Part of the gag is how blithely people seem to take this strange behavior, which seems bizarre to us, but in the movie's world is as common as Internet dating is today. In a way, Theodore is just dating his secretary. But the movie also slyly hints at how close we already are to its imagined reality: Operating systems are designed to understand their users and customize themselves accordingly; our computers already watch, listen and sort intimate communications; our phones can listen to us, and to talk back.
In the hands of a typical filmmaker, this could easily turn into a one-note gimmick. But writer-director Spike Jonze gifts this digital romance with a remarkable tenderness. Mr. Jonze, the director of "Adaptation" and "Being John Malkovich," has already proven adept at crafting quirky high-concept features, but those films, both scripted by Charlie Kaufman, came from the head. Despite its heady premise, Mr. Jonze's script and direction come from the heart. "Her" is a movie about modern love, not about the science and technology of artificial intelligence.
If anything, it occasionally verges on too simplistically heartfelt. I wish Mr. Jonze had spent just a bit more time exploring the implications of romantic entanglements with intelligent technology.
Instead, Mr. Jones keeps the focus on the film's core emotional insight: that the capacity to change, learn and adapt to other people is what allows for moments of great romantic connection, and also what makes sustaining those connections so hard. It's a smart, charming movie about technology, intimacy and connection, about falling out of love and into it. I fell in love with it along the way.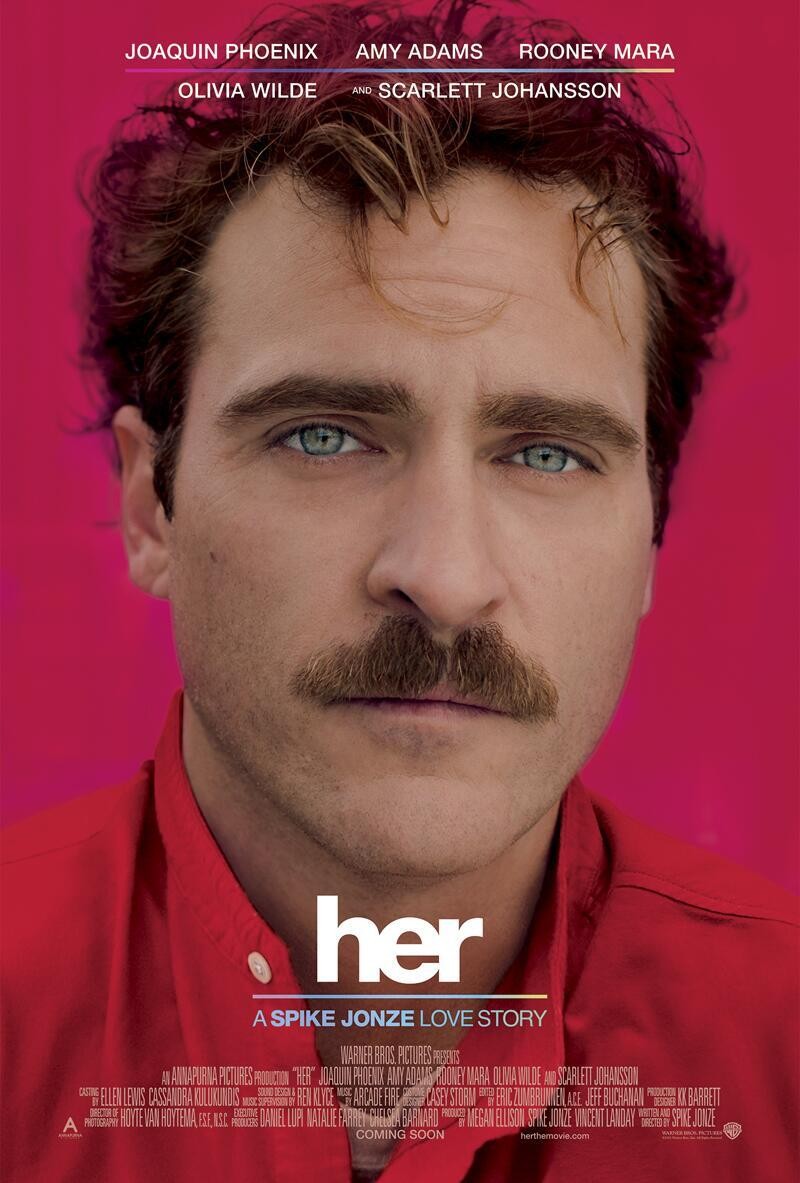 ★★★★ (out of four stars)
CREDITS: Written, directed by Spike Jonze
RATING: R for language, raunchy talk, sexual suggestiveness
RUNNING TIME: 126 minutes