MOVIE REVIEW: 'The Wolf of Wall Street'
There's nothing subtle about "The Wolf of Wall Street," an ADD-rush of a movie about money-mad psychopaths. Director Martin Scorsese's riff on the scummy, scammy low end of high finance is exuberant, brilliant, and occasionally exhausting. From its opening scene, which segues from a knowing parody of finance-firm advertisements to a trading floor party featuring an uproarious game of midget tossing, to its madcap final hour, this is a movie that never lets up. It's got energy — and minutes — to spare: The three-hour theatrical cut reportedly was trimmed down from a marathon four-hour original draft.
The movie is set in the 1980s and '90s, but the financial messes of today and yesterday are never too far from view. When swindling-broker Jordan Belfort (Leonardo DiCaprio) explains his business strategy to a staff of dim-bulb salesman, he tells them that the trick is to target the wealthiest 1 percent of American earners. Collateralized debt obligations, a complex financial instrument that played a role in the economic meltdown of 2008, get a mention too. The movie doesn't exactly dwell on the winks and nods to contemporary financial shenanigans, but its message is more than clear: The attitudes and excesses on display are what created the culture that made the financial crisis possible.
And the excesses the movie presents are something to behold: drugs, sex, profanity, and shocking levels of wealth and waste fill every corner and crevice of the picture. No impulse control problem is left behind, or off screen. At the center of it all is Belfort, a smart kid who lands on Wall Street in the late 1980s because it's the only place that could possibly support his ambitions. When the stock market takes a nose dive, he loses his job — but not before a senior broker (played with scene-stealing smugness by Matthew McConaughey) gives him a lesson in the virtues of the never-ending con: The goal, he explains, is to ensure that the client never sees any real money at all.
Belfort takes the idea and runs with it, setting up a boiler room filled with nitwits on Long Island to peddle garbage penny stocks to low-income losers. From there, his penny stock empire expands into a zillion-dollar business, with most of those zillions going to Belfort and his awkward partner in crime, Donnie Azoff (Jonah Hill).
The movie's zeal for bad behavior is unrelenting, as is Mr. DiCaprio's over-the-top performance as Belfort. It's the biggest, loudest role he's ever played; he's an alpha predator chewing up everything in his path. As his right-hand maniac, Mr. Hill delivers the movie's best and most unexpected performance, a weirdo, heavily improvised role that provides most of this surprisingly funny movie's biggest laughs.
Mr. Scorsese works hard to keep up, stocking every scene with a lifetime's worth of manic directorial flourishes. It should be too much, but for the most part it comes off as just crazy enough.
Yet what Mr. Scorsese adds in genius and energy, he loses in empathy. As scripted by "Boardwalk Empire and "The Sopranos" scribe Terence Winter, "The Wolf of Wall Street" is unrelentingly cynical about Belfort and his cronies, and implicitly about finance and capitalism as well. That makes Belfort an engaging and entertaining anti-hero, but not a particularly believable representative of financial market mayhem. Whatever Wall Street's pre-crisis excesses were, they had to have been more subtle than this.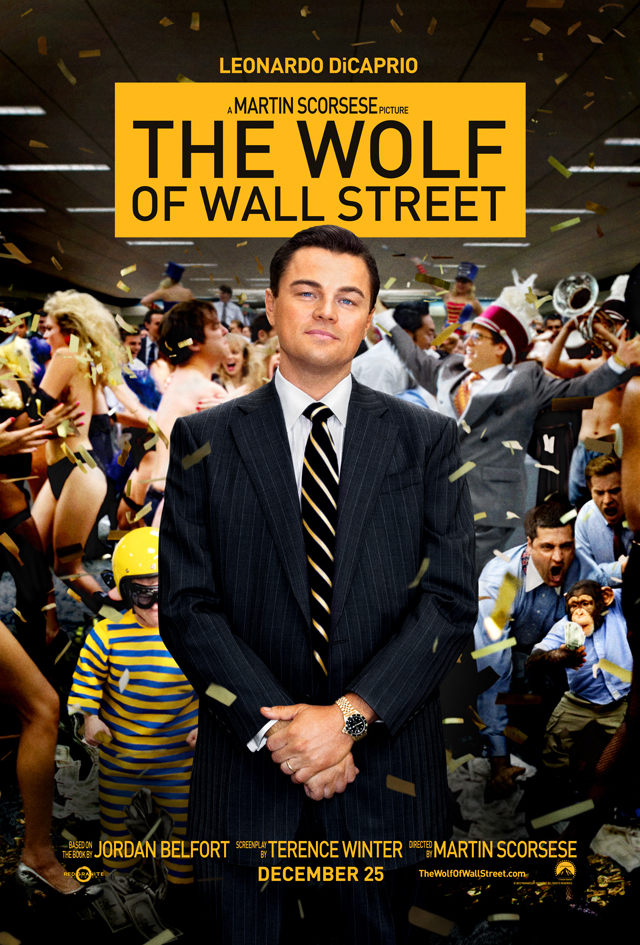 ★★★★ (out of four stars)
CREDITS: Directed by Martin Scorsese; written by Terence Winter
RATING: R for nudity, sex, drug use, profanity
RUNNING TIME: 180 minutes