D.C. Mayor Vincent C. Gray stood before reporters Tuesday at a portable podium inside a construction site less than 24 hours after filing for re-election and touted the progress of his economic development plans for the city.
Against a backdrop of gypsum board and plastic sheeting that covered the sides of the unfinished building, the mayor was barely through a thinly disguised campaign speech when the questions inevitably turned to the scandal that surrounded his 2010 election bid and enveloped his first term.
"I want to talk about the future of the District of Columbia," he said, brushing off one question.
"2010 is now getting ready to be four years ago, and I want to talk about what happens going forward in 2014," he told another reporter.
But unanswered questions about his involvement with a "shadow campaign" that illegally funneled hundreds of thousands of dollars to his first mayoral bid have festered and resulted in calls for the mayor's resignation from three D.C. Council members. With 10 other candidates running in a crowded field for a Democratic primary four months away, the rhetoric has turned quickly to ethics — and the mayor.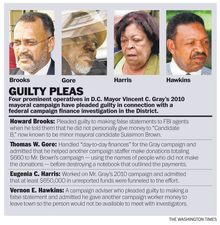 Veterans of D.C. politics, campaign operatives and activists have their own theories as to whether or when prosecutors might bring charges against Mr. Gray and to what extent the threat of indictment has affected his decision to run.
"It's tragic that the mayor has put himself in a position where he can't answer questions that will linger," said Peter Nickles, an attorney general in the administration of Mayor Adrian M. Fenty and a political adversary of Mr. Gray's.
Rather, he said, the other candidates in a crowded field will be left to debate those issues while the U.S. attorney's office continues to investigate.
"There are other good candidates who can govern without the cloud of corruption," Mr. Nickles said. "How devastating for the city for him to run, win and then face charges later. Until all the questions have been answered, then, and only then, should the mayor proceed to run for re-election."
'A sense of urgency'
The 2-year investigation into the mayor's campaign headed by U.S. Attorney Ronald C. Machen Jr. has moved in fits and starts.
Prosecutors have not offered evidence that Mr. Gray had any knowledge of underhanded efforts by his 2010 campaign staff. But they have laid out a scheme by which more than $650,000 in unreported cash was funneled to the Gray campaign that has prompted questions about what Mr. Gray knew and when he knew it.
The probe began almost comically, when minor mayoral candidate Sulaimon Brown said in March 2011 that he was paid and promised a job to stay in the race and continue verbal attacks against Mr. Fenty.
The scandal elevated in March 2012 after a raid on the home and offices of prolific political donor Jeffrey E. Thompson, who is widely believed to have funded the scheme.
Mr. Thompson has not been charged, but four people connected to the campaign have pleaded guilty to offenses related to the investigation and have cooperated with prosecutors.