Sullen and forlorn, Mike Shanahan strolled to a podium perched on a makeshift platform mere yards from the Washington Redskins' locker room and made an uncharacteristic request.
A coach so used to dealing with issues, troubles, hearsay and innuendo away from the field — and summarily denying all of them — wanted nothing to do with anything but football-related questions on Sunday, not even a half-hour after the Redskins were summarily defeated by the Kansas City Chiefs, 45-10, at FedEx Field.
"It's not the right time or place to talk about my relationship with [team owner] Dan Snyder, or it's not the right time or place to talk about something that happened a year ago," said Shanahan, whose tenure as the Redskins' coach is clearly nearing an end. "I will get a chance to talk to Dan at the end of the season, and I will give him some viewpoints from me, and I'm sure he will give me his thoughts.
---
SEE ALSO: FENNO: Mike Shanahan's empty words no salve to free-falling Redskins
---
"But I take full responsibility for this game today," Shanahan said. "I didn't have the players ready to play."
That much was clear from the start. The Redskins (3-10), out of the playoff picture as of last week, have routinely found new ways to take themselves out of football games this season.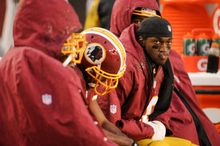 Though they've struggled from the start before, their inability to compete with Kansas City (10-3) was clear from the outset. The Chiefs rolled to a 17-point lead after the first quarter, extended their advantage to 31-0 just over five minutes into the second quarter, and were never in danger of relinquishing it.
---
SEE ALSO: RG3 in no mood to discuss Redskins' reported power struggle
---
The poor performance came hours after an ESPN report that Shanahan, uncomfortable with the relationship between Snyder and quarterback Robert Griffin III and the owner's treatment of the burgeoning star, felt compelled to leave the Redskins following last season. He reportedly chose to return only after Griffin sustained a right knee injury, worrying that the appearance of abandonment would not look right.
After the game, Griffin said he was unaware of such a report, and he also was unwilling to talk about his relationship with Snyder, calling it "not relevant to the football game, or relevant to my life."
"I don't know what else I can do about it," Griffin said, visibly perturbed by the mention of such discussions. "I come to work every day. I work with these guys every day, and I go to war with them every day. It's very unfortunate, and that's all I can say about it at this time. I will be ready for Atlanta."
The question, then, is whether Griffin's teammates will be. The Redskins, who have now lost their last five games, are without direction. Their offense has been stagnant for weeks; Griffin completed 12 of 26 passes for 164 yards, a touchdown and an interception, leaving the game after the third quarter in favor of Kirk Cousins with the Chiefs ahead 38-10. The running game once again couldn't be established with Kansas City ahead so quickly, gaining only 65 yards, a season low.
The defense allowed 193 rushing yards, including 151 to running back Jamaal Charles, who ran for one touchdown, caught a pass for another and had three carries for a combined 85 yards.
And then the special teams, the Redskins' most glaring inadequacy, completely fell apart, allowing a 74-yard punt return for a touchdown by Dexter McCluster with 9:45 left in the second quarter and a 95-yard kickoff return for a touchdown by Quintin Demps just 53 seconds before halftime.
Inside linebacker London Fletcher, considered the emotional and vocal leader of the team, said he couldn't fathom players quitting on the team before Sunday.
"But then you see this type of performance … when you give up as many yards as you give up, from a special teams standpoint, or not being able to move the ball offensively and not being able to tackle defensively – it's hard to say what it was, but, it wasn't a good sight," Fletcher said. "Fans weren't booing for no reason."
Sunday was completely different, Shanahan said, and the final three games will prove that the team has not quit on him. Yet the lopsided defeats and questioned relationships are the same old stories.