Rep. Sheila Jackson Lee and at least three other lawmakers already are parked in their coveted aisle seats in hopes to have the world see them shaking hands with President Obama during tonight's State of the Union address.
"I'm always working on behalf of my constituents," Mrs. Jackson Lee, Texas Democrat, told the National Journal when asked why she stakes out an aisle seat every year. "I am working on their behalf, and they are seeing me work on their behalf. Many of them are moved by the moment."
Democratic Reps. Al Green of Texas, Sanford D. Bishop Jr. of Georgia and Barbara Lee of California also are staking their claims to the aisle.
"While it's true that having the seat does give Jackson Lee visibility, it's a bit harder to argue that at this moment her constituents are seeing her work on their behalf," the National Journal notes. There is no real proof that the visibility with the president actually gives politicians a boost at the polls.
Other members scoffed at the idea of camping out in an aisle seat for eight hours.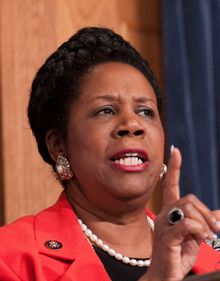 "I don't have eight hours to waste," Rep. Mark Meadows, North Carolina Republican, told the National Journal. "If you are doing this job well, every minute should be spent going to briefings, researching, and figuring out how to move ahead."
"I'm not giving up eight hours of my time for a minute on national television," he added.
The president is scheduled to give his address at 9 p.m. Eastern. Members are requested to be on the floor and seated no later than 8:25 p.m., according to a note from the speaker's office.