Voting on bills and resolutions is a member of Congress' most basic duty, but only 10 of its current 535 lawmakers represented their constituents on every vote last session.
At times, members appeared to think that ballooning their campaign bank accounts was a surer way to re-election than legislative participation: The Washington Times found nearly 800 cases in which members of Congress missed votes on days they were scheduled to attend political fundraisers, including 75 cases in which the lawmaker was far from Washington.
Rep. Jackie Speier, California Democrat, missed 11 percent of votes last Congress, spread throughout the term. A member of the Homeland Security Committee, she hosted a "San Francisco Treat" campaign fundraiser at which donors dined on $1,000-a-plate crab and Ghirardelli chocolates on June 14, 2011, a day the House was taking up military and veterans issues. In so doing, she missed three votes.
On Sept. 10, weeks before Superstorm Sandy washed away the possessions of many New Yorkers, the House was discussing flood insurance, but Rep. Martin Heinrich, New Mexico Democrat, running for the Senate, was absent. He was in New York for another reason, records suggest: At 6:30 p.m., a "champagne reception" was held in his honor in a Fifth Avenue apartment, with a $10,000 suggested contribution. Mr. Heinrich won his Senate bid.
"If you have to choose between voting to represent your constituents or fundraising for re-election, you'd think you'd choose voting. It's the most fundamental thing they have to do in Congress. It shows the priority of money in politics above all things, even the most basic duties," John Wonderlich of the Sunlight Foundation said.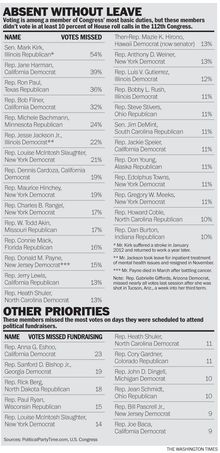 Whether because they were too busy campaigning, because they just never made it from their offices down the hallway to the floor or because of old age, 28 lawmakers missed more than 1 in 10 votes in the last Congress. The list of members missing at least 10 percent of votes contains 17 Democrats and 11 Republicans.
Five of the 435 House members, each of them Republican and most relative newcomers, were present for all of the House's 1,600 votes last Congress. Five senators, four of them Republican, made all Senate votes.
Rep. Justin Amash, Michigan Republican, at 32 personifies the five current House members who never missed a vote, largely a crop of new lawmakers fresh with enthusiasm for the job.
"Representing my constituents means showing up for work every day and never missing a vote. But a perfect vote record isn't sufficient: The people I represent expect me to review every bill carefully and to explain every vote I take," he said.
On the other end of the spectrum, 12 members, including Rep. W. Todd Akin, Missouri Republican; Rep. Charles B. Rangel, New York Democrat; and Rep. Dennis A. Cardoza, California Democrat, missed more than 17 percent of all votes.
The Times compared voting records for the 112th Congress with the Sunlight Foundation's Political Party Time, a database of fundraising event invitations obtained from lobbyists and others.
Rep. Luis V. Gutierrez, Illinois Democrat, missed more than 12 percent of the House's votes last Congress, the fifth-most among current representatives. Eight of those votes were held during days he was scheduled to attend four political fundraisers.
Rep. Sanford D. Bishop Jr., Georgia Democrat, missed more than 4 percent of votes in the House in the last Congress, including 19 on three days when he was scheduled to attend fundraisers. On July 22, 2011, the day the House was voting on the legislative branch's appropriations budget, Mr. Sanford was on the Stonebridge Golf Course in Georgia at a fundraiser for his campaign.
Rep. Rick Berg, North Dakota Republican, missed 38 votes last session, but the power of money to draw him away from business he otherwise prioritized seemed clear: Half of those votes were held during days he was scheduled to attend six fundraisers.
Retirement age