The Environmental Protection Agency's own internal watchdog has faulted the agency for using inaccurate and unreliable estimates on the level of air pollutants that are released during oil and natural gas production.
The EPA uses these figures to oversee and regulate the drilling industry, The Associated Press reports.
"With limited data, human health risks are uncertain, states may design incorrect or ineffective emission-control strategies, and EPA's decisions about regulating industry may be misinformed," said Inspector General Arthur Elkins Jr., according to AP.
Mr. Elkins says the agency has actually relied on air pollution estimates that are of "questionable quality," due in part to its failure to properly take emission measurements from some of the equipment that's used in the drilling process, AP says.
The finding comes at a time when President Obama and the EPA are pushing hard for more regulatory oversight of natural gas drilling — just as hydraulic fracturing is booming. An estimated 25,000 wells each year are being fracked, AP reports. The process involves the injection of water, chemicals and sand into the ground to release and capture trapped gas.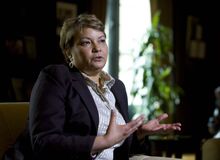 Oil and gas industry officials aren't surprised at the watchdog's finding. They have said for some time that the EPA has grossly overestimated its emission numbers, AP reports.