Tuesday's primary for Chicago-area Democrats voting to replace former Rep. Jesse L. Jackson Jr. could be the first indication of whether gun control will take center stage in next year's congressional races.
In a field of ideologically similar candidates running in a heavily Democratic district, the top contenders have staked out distinctly different positions — and drawn national attention in the process.
Former state Rep. Robin Kelly has unapologetically touted herself as a pro-gun-control candidate, while former Rep. Deborah L. Halvorson — whose "A" rating from the National Rifle Association was used against her by Mr. Jackson when he defeated her in last year's primary — is seeing a deluge of outside money coming in to oppose her.
---
SEE ALSO: Jesse Jackson Jr. pleads guilty to misusing campaign cash
---
New York Mayor Michael R. Bloomberg's anti-gun super PAC, Independence USA, has dumped about $2 million into advertising to oppose Ms. Halvorson and state Sen. Toi Hutchinson, who has won support from the NRA in the past but now supports a ban on some semiautomatic weapons and high-capacity magazines. Ms. Hutchinson abruptly dropped out of the race recently and endorsed Ms. Kelly.
The candidates are trying to replace Mr. Jackson, who pleaded guilty last week to a felony charge related to misuse of $750,000 in campaign funds. He is scheduled to be sentenced in June, and prosecutors recommended a sentence of about four years in prison.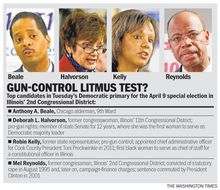 Ms. Hutchinson and Ms. Halvorson have both complained about Mr. Bloomberg's involvement in the race — involvement he defended.
"I'm part of the public," Mr. Bloomberg told reporters recently. "I happen to have some money, and that's what I'm going to do with my money — try to get us some sensible gun laws."
Vice President Joseph R. Biden said recently that there has been a wide assumption that gun control is a "third rail" for politicians — but that the dynamic has changed since the shooting deaths of 20 children and six adults at Sandy Hook Elementary School in Newtown, Conn.
"[I]f you're concerned about your political survival, you should be concerned about the survival of our children," he said. "And guess what? I believe the price to be paid politically will be to those who refuse to act, who refuse to step forward, because America has changed on this issue."
A bipartisan group of senators — Democrats Charles E. Schumer of New York and Joe Manchin III of West Virginia, along with Republicans Tom Coburn of Oklahoma and Mark Kirk of Illinois — is reportedly within striking distance of a deal to strengthen background checks on virtually all gun sales.
But a major sticking point is the extent to which records would be kept on gun owners; for example, what, if any, documentation might accompany cases such as family heirlooms being passed down from father to son or friends loaning one another guns on a firing range.
"I don't think we're that close to a deal, and there absolutely will not be record-keeping on legitimate, law-abiding gun owners in this country," Mr. Coburn said on "Fox News Sunday." "And if they want to eliminate the benefits of actually trying to prevent the sales to people who are mentally ill and to criminals, all they have to do is create a record-keeping, and that will kill this bill."
NRA CEO Wayne LaPierre warned over the weekend that universal background checks are the first step toward a national gun registry — a point disputed Sunday by Sen. Patrick J. Leahy, Vermont Democrat and chairman of the Senate Judiciary Committee.
"I mean, your local gun store has to pay taxes to the community, to the state and fill out all these rules and all, why should they have to have stiffer rules on them than somebody who comes in and sets up in the fairground for a week?" he said in an appearance Sunday on CNN's "State of the Union."
He dismissed concerns that background checks would lead to a gun registry, saying the records would be destroyed, as long as gun purchasers are truthful.