Troy Brouwer and everyone around the Washington Capitals saw overflowing talent in Alexander Semin. It was there in the highlight-reel tallies that led to his being fifth in franchise history in goals and in the sublime passing that led to his being tied for 14th in assists
But there was also the maddening inconsistency of Semin's game.
"Some nights, you didn't even know if he was going to come to the rink," Brouwer said. "It's tough to play alongside guys like those because you don't know what you're going to get out of them."
For seven years, the Caps got 469 games, 197 goals and 211 assists out of Semin before the right wing signed a one-year, $7 million deal with the Carolina Hurricanes last summer. Even as they're mired in last place in the Southeast Division, the Caps seem to have no regrets about letting the high-scoring Russian leave.
"We believe in what we've got here," center Mathieu Perreault said. "I think for sure he's a great player. We always miss good players like that, but I think we've adjusted pretty good."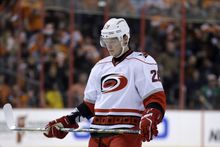 Part of the adjustment is internal. Semin's production is gone, but so are the questions about him.
"It was tough to lose his scoring ability when he wanted to play," Brouwer said. "But all in all, I think we've been doing well without him."
Semin's four goals and 10 assists would have him tied for second on Washington's roster with captain and friend Alex Ovechkin. Center Mike Ribeiro, who the Caps traded for at the draft, is making $5 million and has a team-high 21 points on six goals and 15 assists.
"I think that we brought [in] a guy like Ribeiro who does things a little bit differently than him, but I think, still, he fills the gap for what Sasha did," defenseman Karl Alzner said. "Obviously you're going to miss a player of that talent, but I think we filled the hole that we did have. If we could have him on our team still, that'd be a bonus for us, but we're not that fortunate."
Obviously, Alzner said, Washington would love to be able to have a trio like the Pittsburgh Penguins' Sidney Crosby, Evgeni Malkin and James Neal, but in a sport with a salary cap that's not always possible. "That's a perfect world, and this is the furthest thing from a perfect world," he said.
Even in the world where Semin played for the Caps, things weren't perfect.
He was a plus player since 2008-09 and scored 20-plus goals every season except his rookie year. But looking at Semin's immense talent, Brouwer wasn't the only one who wondered what could have been.
"It can be frustrating," said the Caps right wing who has eight goals this season. "I know there's a lot of guys that work really, really hard to get where they are playing in the NHL, and some guys it's a little bit easier because of their skill set. Every player's different, every attitude is different, every personality is different."
Say what you want about Semin's personality and his unwillingness to do interviews in English that forced teammates to answer for him, but the 2002 first-round pick could fill the stat sheet. He's doing that now with Carolina.
Naturally, Ovechkin said he wished his friend were still here.