VIERA, Fla. — After Christian Garcia made his major league debut with the Washington Nationals last fall, there were plenty of friends and family members with questions. Given the long road the right-hander had taken to get there, they wanted to know all the details.
When it came to teammates, Garcia had one answer he was sure about: "Kurt Suzuki is the nicest man I've ever met."
"I don't think he ever has a bad day," Garcia said on a recent spring morning. "He's just so nice."
The Nationals catcher's personality has been on full display this spring, and watching him go through his motions each morning walks the line between entertaining and exhausting.
He'll sit and eat breakfast while chatting up left-hander Gio Gonzalez about his start the previous night, rolling his eyes at Gonzalez's tale of a wrestling match with his French bulldog, Hollywood. Or he'll strap on his gear early to catch a bullpen session for Dan Haren, to help familiarize himself with the right-hander after not catching him since 2007 in Oakland, despite the fact that he's catching in the game later that afternoon.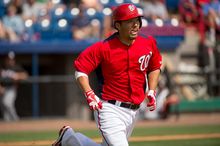 "What's up, Maldy?" he asks catcher Carlos Maldonado as he walks by, even though he's midsentence in a conversation with another player. Sitting on the couch in the clubhouse, or a table in the training room, or behind the plate during the early spring bullpen sessions, the setting doesn't seem to matter. The Hawaii native finds a way to chat.
"It's just kind of my personality," Suzuki said with a shrug. "I've always been like that. Happy-go-lucky, just enjoy myself. Keep it fun."
But Suzuki's demeanor is a big part of why the catcher has become such an integral part of the Nationals, particularly as they continue to ease Wilson Ramos back in after ACL and meniscus surgery.
Acquired from the Oakland Athletics on Aug. 3, Suzuki faced the difficult task of learning an entire pitching staff, integrating himself into the clubhouse and reworking his swing — all while trying not to mess up one of the best teams in baseball.
His ability to communicate played a significant role in how seamlessly he accomplished it.
"It helps him because he's got a great relationship with the guys," said pitching coach Steve McCatty. "He's extremely approachable, he has a lot of fun, good sense of humor, all the things that make a great teammate. And also he wants to learn. He'll talk about [the pitchers], what they want to do, what he sees them doing.
"He talks a lot. But he doesn't just do something and then not talk to the guy [about why]. He's very open. You start to learn that it's not always what a pitcher wants to do. He sits back there and learns what he thinks they should do. Ultimately it's the pitcher's decision, but he says, 'Here's what I see.' He's really good about it."
When Suzuki caught Ross Detwiler for the first time last summer, the left-hander remembered it was a little rocky. It was a heavy workload for Suzuki, learning 12 pitchers with no lag time, and Detwiler didn't make it out of the fifth inning against the Arizona Diamondbacks. They rarely hit a bump after that. Suzuki caught nine of Detwiler's final 10 starts, including the playoffs, and the lefty posted a 3.28 ERA.
"He grasped it right away and the second start I had he was right on cue with me," Detwiler said. "It was amazing. He takes feedback very well and he tells you why he does stuff. … Maybe I shake him off once and then he grasps what I'm trying to do and then he just takes it and goes with it."
There are times when Suzuki may not fill Garcia's billing as the nicest man alive, times when he flips the switch and, as Gonzalez puts it, "beats me up" on the mound. There doesn't seem to be a single pitcher who minds that, either.