As yet another deadline comes and goes, Gov. Andrew Cuomo continues to put off a decision on whether to allow fracking in New York, even as other states rush to cash in on the boom generated by the wildly successful drilling technology.
On Wednesday, New York's Department of Environmental Conservation was to release the final proposed regulations in the Empire State for proposed hydraulic fracturing — fracking, an idea backed by many Republicans, the oil and gas industry and others but bitterly opposed by some Democrats and environmental groups.
But with state officials knee-deep in another study of fracking's potential health impacts, the deadline came and went.
---
SPECIAL COVERAGE: Energy and Environment
---
Other states aren't waiting: North Carolina now is on track to join Pennsylvania, North Dakota, Ohio and many other frack-friendly states.
The North Carolina Senate this week passed a bill allowing the practice within the state's borders. If the measure passes the House, it heads to Republican Gov. Pat McCrory, who has already vowed to "unleash North Carolina's energy resources" and made that issue a key part of his 2012 gubernatorial campaign.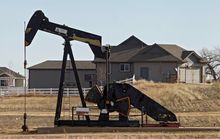 The legislation would allow the state to begin issuing fracking permits in 2015.
There remains resistance from environmental groups in North Carolina, just as there is in New York. But after a lengthy debate, North Carolina appears ready to finally pull the trigger, while the Empire State continues to sit idly by as other states reap the benefits of fracking.
Fracking is already taking place in Colorado, but Gov. John Hickenlopper doubled down on support for the practice earlier this week. The first-term Democrat and former Denver mayor has threatened to sue any local government that bans fracking, which employs sand, water and chemicals to break apart underground rock and release trapped fuel.
Cities and towns across the nation, including several in Colorado, have adopted resolutions or passed ordinances banning the practice. Buffalo, N,Y., and Pittsburgh are among the highest-profile cities to enact such a ban, usually done as a last resort if fracking appears imminent but local officials or a majority of the public are vehemently opposed.
Mr. Hickenlooper will not allow that to happen in Colorado. His administration already has sued the city of Longmont and appears willing to sue Fort Collins if that city moves forward with a proposed ban.
"The bottom line is, the way we have a split estate in this part of the world — pretty much all of the western United States — somebody paid money to buy mineral rights under that land," Mr. Hickenlooper told the Denver TV station CBS 4 earlier this week. "You can't harvest the mineral rights without doing [fracking], which I think we've demonstrated again and again can be done safely."
States also must deal with uncertainty at the federal level with regard to fracking regulations. President Obama has expressed support for expanded domestic oil and gas drilling, but it remains to be seen whether it will become easier or more difficult to obtain fracking permits over the next four years amid speculation that the federal government will get more much more involved.