This one had all the makings of a Washington Capitals-Pittsburgh Penguins Classic. Penguins coach Dan Bylsma worried about Sunday's game being an afterthought with the Super Bowl hours later, but with Sidney Crosby, Evgeni Malkin, Alex Ovechkin and Nicklas Backstrom all on the ice at Verizon Center, it was the center of attention in the hockey world.
But whereas in years past the Caps and Penguins dueled back and forth like Stanley Cup contenders, Sunday's 6-3 showed the Caps didn't belong on the same ice. It wasn't their worst game of the season, nor was it their best, but enough mistakes from the goal line out cost them.
"We obviously didn't get it done, so it's not good enough," defenseman John Carlson said. "I think it's deflating overall when you go into a hole and then you start playing good and you see what you can do out there and just didn't do it all game. That's been our downfall, I think. Besides maybe one game this year, we've had stretches of great hockey and we obviously need to work on that because it's not good enough otherwise."
The Caps have 39 more games during the regular season to catch up and perfect Adam Oates' system, but for now, they don't have the ability to hang with the NHL's elite. Right wing Joey Crabb insisted he couldn't criticize the effort, but the results weren't there.
"I think the biggest thing is just our mental game right now isn't strong enough," said goaltender Braden Holtby, who allowed five goals on Pittsburgh's first 14 shots. "We're playing a good team game. It's just those little breakdowns, and like myself on that third goal, those are the little things that we have to prepare for before the game that are huge in winning games."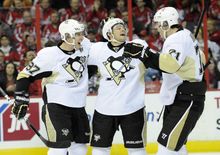 Getting to the point where the Caps can skate with the Penguins for a full 60 minutes might be a slow, agonizing process that might not materialize until 2013-14. Or it could happen if and when Brooks Laich returns.
But it didn't happen before Sunday, when the Caps dropped to 2-6-1. Defenseman Karl Alzner said facing the Penguins was a big test, adding "it's the test we need right now."
When presented with the test, Washington failed. Holtby wasn't at his best, giving up a couple of goals that let the game get out of hand, 37 seconds apart — one of which he certainly should have stopped.
"There's been better days, but pucks seemed to go in again tonight," Holtby said. "I feel like I'm doing some right things, and obviously a couple things that I'd like to change, but it's just one of those nights."
But it wasn't entirely the goalie's fault and Oates knew that. He considered pulling Holtby for a "spark" but decided against it, citing what the young netminder did for this team during last year's playoff run.
Oates could be second-guessed for that, and for even starting Holtby over Michal Neuvirth in the first place. But this game wasn't lost in goal: Caps defensemen failed to clear traffic from in front of Holtby and couldn't slow down Chris Kunitz, who had a hat trick.
It seemed like every error the Caps made, the high-octane Penguins were there to cash in.
"We know that any little mistake that would normally maybe go unnoticed is kind of amplified with this team because of their skill level and the fact that their skill [players are] the hardest-working players on their team," right wing Troy Brouwer said. "They create because they work hard, and then they have the skill to make you pay for those little mistakes that you have."
Were it not for a flukey goal scored by Carlson off the stanchion and past a helpless Tomas Vokoun, it would've been even more of a rout.
But while players talked of quick goals that "deflated" them and mental weakness, Oates didn't see it that way.