PITTSBURGH — Adam Oates and Dan Bylsma sat next to each other on bus rides and plane trips. On the road, they flew into a city and found a coffee shop to visit and talk hockey.
That happened during the 2002-03 season when Oates and Bylsma played for the Mighty Ducks of Anaheim.
"We'd call it 'hot stove,'" Bylsma recalled. "We hot stove'd for an hour, two hours before dinner, and we did that every road trip. So I spent a lot of time with Adam talking about the game, our team and the hot stove in hockey."
Back then, the Pittsburgh Penguins coach saw a future behind the bench for Oates, who is just 11 games into his tenure with the Washington Capitals. Bylsma didn't know what to expect from a star player like Oates when he became a teammate, but what he discovered was someone with knowledge that could translate to coaching.
"He certainly has the mentality for it," Bylsma said. "A skilled, highly skilled player, but kind of a real nuts-and-bolts coach, a real X's-and-O's guy."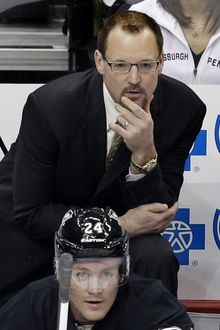 It's rare that a Hall of Fame player becomes a successful coach, let alone a Stanley Cup-winning coach. Bylsma, who led the Penguins to the Cup in 2009, laughed about that challenge because his 62 points in 429 NHL games didn't make him ripe for induction.
He could only speculate as to why Oates could go against the grain of greats who flame out as coaches.
"I think sometimes with skilled, great players, they see the game at a level that's different than everybody else," Bylsma said. "When you see the game and you expect it to be this way and you can see these situations, but other players on the ice … don't see it that way, that can be a tough thing for a person to translate into coaching.
"I think Adam's a little bit different than that. He's a guy who saw the game at an extremely high level, but he's also a guy who I related to in terms of him applying it to our coach, our situation, our team and a lot of different things."
Oates was at the tail end of his career by the time he got to Anaheim. The Mighty Ducks made the Cup Final that year, so it meant plenty of coffee for him and Bylsma, affectionately referred to as "Disco Dan."
"We had a great year. We ended up losing Game 7 of the finals, and Disco and I got along really well," Oates said. "He's a very smart guy, as we know. We had some very smart conversations with him and a real good time."
Oates didn't project Bylsma as a coach back then because his teammate "already had children's books that he was writing with his father. [He was] very diversified."
Before Oates got to Anaheim, those around him saw coaching potential. Tim Hunter, now on Oates' staff in Washington, was an assistant to Ron Wilson during the center's time with the Caps.
"He was always asking the questions that would get him one step ahead of the play," Hunter said. "As a coach, you're always trying to put your best players in the best positions to succeed, whether it's with a certain player or against certain players."
A column in the Ottawa Citizen last week citing history being against Oates wasn't lost on the Caps coach. Wayne Gretzky, Phil Esposito and Bryan Trottier were plucked from the coaching graveyard as examples of Hall of Fame players who couldn't cut it as coaches.