Two D.C. women were arrested in connection with a stabbing at a Camp Springs strip club early Friday, according to Prince George's County police.
Officers were called to the Hangar Club, in the 6400 block of Old Branch Avenue, about 1:45 a.m. after a fight broke out between several women inside the club, police said. Two women were stabbed by two others as the fight spilled into the parking lot, after which the two attackers got into a vehicle and drove away.
Based on the description of the female attackers and their car, police stopped and arrested two women a short time later. The women, Kailah Jameka Robinson, 19, of Southeast and Ebony Deana Jackson, 22, of Northeast, were both charged in connection with the attack.
Ms. Jackson is charged with attempted first-degree murder and first-degree assault while Ms. Robinson is charged with second-degree assault. Police were unable to provide information on the reason for the lesser charges against Ms. Robinson. It could not be immediately learned whether either of the women had attorneys.
A manager for the Hangar Club, which hosts male and female exotic dancers, declined to comment when reached by phone Friday.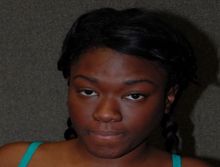 Both victims were treated and released from a hospital by Friday afternoon, police said.
While county police have over the last year made a concerted effort to shut down clubs that are the scene of violent incidents, police spokeswoman Officer Nicole Hubbard said Friday it was unclear whether the department was taking steps to temporarily close the club.