Robert Griffin III waved his arms, encouraging Washington Redskins fans to keep up the chant. It wasn't the chorus of "RG3" that filled FedEx Field for most of the regular season, a tribute to the rookie quarterback whose success changed the course of the franchise.
No, on Sunday night fans serenaded Alfred Morris by chanting his name while the running back was on the way to a career game: 200 yards and three touchdowns.
"I'll tell you what, Alfred Morris became a star tonight," tight end Chris Cooley said.
Anyone who has watched the Redskins this year knows that Morris is far from a one-night wonder. The sixth-round pick out of Florida Atlantic ran for a single-season franchise record 1,613 yards and a Redskins rookie record 13 touchdowns.
With 10 games of 20-plus carries and seven of 100-plus yards, Morris has been the model of consistency, putting together a Pro Bowl-caliber campaign despite being snubbed for the NFL's all-star event. When Morris was asked recently what going to the Pro Bowl would mean, Griffin overheard the question and responded: "It means he's a beast."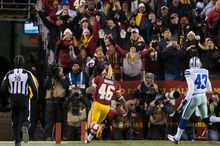 Sunday night was the most beastly of Morris' career. Left guard Kory Lichtensteiger called it Morris' "beast mode."
Thirty-three carries and more than 6 yards per rush qualifies.
"Alfred did a great job. He makes runs that are blocked for 3 yards [into] 7-yard gains," Griffin said. "He's out there running over guys and continuing to move his legs, getting those hard yards."
A big night from Morris was crucial to the Redskins beating the Dallas Cowboys and clinching the NFC East title, given that Griffin still was limited on his injured right knee. The quarterback whose ability to freeze defenses with his legs didn't have the same burst, but it was enough to keep the Cowboys off-balance.
Meanwhile, the game plan all along was to ride Morris.
"We were going to give him an opportunity to show us what he can do, especially when they're playing us in different coverages to take away our passing game. And we put a lot of pressure on him," coach Mike Shanahan said. "I thought he stepped up and played at an exceptional level. Not too many guys can rush for a couple hundred yards. We put the majority of the work on him."
Morris' "star" performance on national television had to do with more than just him. The Redskins' offensive line did a masterful job clearing holes for him, and on the outside the tight ends and receivers sealed off extra space and made sure Morris could extend plays.
"We were just running our patented zone plays," center Will Montgomery said about the blocking scheme. "Alfred, he's a downhill rusher. He reads it one gap at a time, and we just kept feeding him. He was feeling it."
Cowboys linebacker DeMarcus Ware, hampered by elbow and shoulder injuries, wasn't feeling it against Morris. Often Sunday night, the Redskins didn't even have to block Ware; he was untouched and not in the right place to make tackles on Morris or Griffin.
"We were just doing the same thing we've been doing all season," left tackle Trent Williams said. "We didn't really point him out at all. We kind of knew what we had to do and we ran our system."