RIO DE JANEIRO — Five years ago, Rio de Janeiro's "favela" hillside slums had such a bad rap that they were virtual no-go zones, where drug lords laid down the law and outsiders set foot at their peril.
But since 2011, police have seized control of dozens of favelas from drug gangs, and things have changed so dramatically that some of the slums are now seen as hot real estate investments — so hot, in fact, that two Europeans recently locked horns in a legal battle over a battered favela house.
Rio's slum "pacification" program is part of a strategy to make the city safe ahead of the 2014 soccer World Cup and 2016 Olympics.
Murder rates are down, and SecoviRio, an organization representing Rio's real estate professionals, estimates that in the 72 hours after police took the first three favelas, property prices there jumped by 50 percent — and are still climbing.
In the Vidigal slum, middle-class Brazilians and foreigners who can't afford chic Rio neighborhoods are snapping up properties wedged between tony beachfront areas like Copacabana and Ipanema.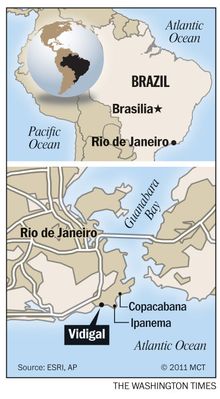 "It used to be you'd say the word 'favela' and people would instantly think: drug trafficking, machine guns, grenades, kidnappings," said Anderson Ramos, a real estate agent with V.D.G. Imobiliaria, Vidigal's first real estate agency. "But now, you say 'favela' and they think pacification and good deals on houses.
"We're seeing upper-class people, millionaires, famous musicians practically queuing up," he said.
Andreas Wieland, one of the two Europeans fighting over a Vidigal property, got a killer deal when he bought an abandoned cinder-block house from a German businessman in late 2009.
The deal was so sweet the owner had seller's remorse. When Mr. Wielend was away on vacation last fall, the former owner took over the house and changed the locks.
"It was unbelievable," Mr. Wielend said. "This house was my baby. I worked so hard to renovate it, and then I'm kicked out on false pretenses. It was surreal."
The sparring foreigners are part of growing group of wealthy buyers keen on acquiring ocean-view properties in Vidigal that are seen as bargains in a city whose real estate prices are among the highest in the Americas.
"I hate to use the word fashion, but the favelas are in fashion, for the first time," said Leonardo Schneider, SecoviRio's vice president.
A risky investment
Built in the late 19th century by army veterans seeking affordable housing, the first favelas sprang up unplanned, and many still lack basic services like sewage connections and electricity.
For generations, they were home to destitute migrants, and in the 1970s began falling under the control of ruthless drug gangs.