ANALYSIS/OPINION:
Forty-three years haven't dulled the pain for Billy Kilmer.
A badly separated shoulder and a three-touchdown deficit couldn't force the New Orleans Saints quarterback from a November game against the San Francisco 49ers in 1969. Trainers tied down the shoulder and Kilmer spent the game handing off with his right hand.
"All I thought about was playing as long as I could for as much as I could," Kilmer said a few days ago from his Florida home. "I wasn't going to give up the job unless they had to carry me off."
Kilmer, who later spent eight seasons with the Washington Redskins and joined the team's Ring of Fame, couldn't practice for five weeks. He didn't miss a game. That wasn't an option.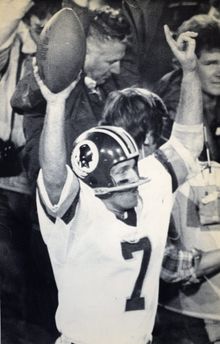 "They loaded me up with Xylocaine," he said with a chuckle, "and I felt good and I went out and played."
The quarterback fought through cracks in an ankle and bruised ribs and a busted, bloody nose and, even today, doesn't think much of it. That's life in the NFL. And that's why the ink and angst spilled after quarterback Robert Griffin III remained in last week's wild card playoff game against the Seattle Seahawks despite a bum right knee surprised him.
"That's nothing new," Kilmer said.
You wouldn't know that from the last frenzied week in Washington. Statements flew. Scapegoats pursued. Fingers pointed. Angry denunciations issued. White House spokesman Jay Carney responded between questions about the debt ceiling (he hadn't discussed the "terrible outcome" with President Barack Obama). Mayor Vincent Gray, NFL commissioner Roger Goodell and the NFL Players Association joined in. Even the satirical Onion lambasted coach Mike Shanahan as if, somehow, what occurred on the painted, divoted tundra of FedEx Field was unique.
The mentality that compels someone to play through injury — one that required surgery last Wednesday to repair Griffin's ACL and LCL — is as familiar as the pain to men who have quarterbacked the Redskins. No, Griffin wasn't the first, nor will he be the last, to push his body past its limits.
They understand the same competitiveness that thrusts athletes like Griffin among the NFL's elite is what keeps them on the field so long as they can place one foot in front of the other and, sometimes, even when they can't. That mentality doesn't make an easy sound bite of outrage or reassure supporters uneasy about the long-term prognosis of Griffin's right knee after his second reconstruction since 2009. But that's reality.
"You basically avoid the medical staff," said Joe Theismann, another member of the Redskins' Ring of Fame. "You keep moving. The coach says, 'How are you?' and you say fine, unless it's so bad, in your mind, that you just can't move."
Theismann, for instance, played much of the 1978 season with a bad knee. The joint was drained before and after each game. He still started 14 games.
"There are times when you probably look like a baby fawn being born, but you feel like you're OK," Theismann said. "It's what separates the good players from the guys that want to be great. That willingness to go as far as you can go.
"Robert is such a fierce competitor. If he's not on that field, it feels like a loss. And he hates to lose. Period."