Boeing has hit a rough patch with its once heralded Dreamliner 787 series that continues to attract unwanted attention, but it's nothing that will ground the company in the long run, analysts say.
The 787, like most new products, is going through a natural phase of "teething problems," said Hans Weber, president of TECOP International, who expects the Boeing to outgrow what he believes are minor issues.
"From everything I know, the 787 is a well-thought-out design with a tremendous amount of safety that went into it," Mr. Weber said. "There were teething problems. This is typical. Any new product that goes into manufacturing, there's always glitches before they iron out all the weaknesses."
Last Monday, the underbelly of a Japan Airlines 787 caught on fire after it landed in Boston. The 173 passengers and 11 crew members were already off the plane when the fire was discovered.
Then, the same aircraft reported a 26-gallon fuel leak Sunday at Narita International Airport near Tokyo. Japan's All Nippon Airways has seen its 787s develop a fuel leak, a window crack and a computer malfunction.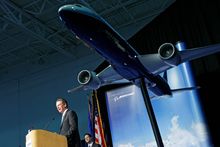 These aren't the first problems for the Dreamliner, and they probably won't be the last, analysts say.
"For the past few years, the 787 program has kind of resembled this series of incidents and problems and expenses," said Richard Aboulafia, vice president of analysis at the Teal Group. "This is more of the same, I'm afraid."
But still, he cautioned, these are relatively minor problems that can be solved with a few "tweaks" here and there. He also pointed out that the system that caught fire is one that only operates while the plane is on the ground.
"If it was a fire in the air, it would be different," he said.
Still, the problems are less than settling for Boeing as it tries to fix what's wrong with its aircraft.
Delivery of the Dreamliner began in September 2011 after a delay of more than three years due to production issues.
In December, the Federal Aviation Administration hinted that there might be problems with the fuel line connectors that could lead to leaks and fires, when the regulator ordered an inspection of the system.
This came shortly before Boeing's most recent problem with fuel leaks and the fire in Boston.
That prompted federal regulators Friday to launch a review of the Dreamliner, though they said they didn't expect to find more problems because the FAA had already spent some 200,000 hours reviewing the 787 before it was originally cleared to fly.
"We are confident about the safety of this aircraft," FAA chief Michael Huerta said at a news conference in Washington. "But we're concerned about these incidents and will conduct a review until we are completely satisfied."