Brett Hull had 741 career NHL goals on the way to the Hockey Hall of Fame, but when he watches Alex Ovechkin score, he sees pure joy.
"Have you ever seen a guy happier to score a goal than Ovechkin?" Hull said. "He goes crashing into the glass. He lives for that."
But in last year's playoffs, Ovechkin saw as his ice time dip as low as 13 minutes and 36 seconds, even as he was scoring goals and helping the Washington Capitals win. That was under Dale Hunter, who put an emphasis on defensive play and leaned on the likes of Jay Beagle and Brooks Laich late in playoff games rather than Ovechkin.
Don't expect any of that from new coach Adam Oates, who could be the perfect guy to take Ovechkin's career back to superstar levels.
"I think Adam will find the key to Alex Ovechkin's soul," Oates' college coach at RPI, Mike Addesa, said.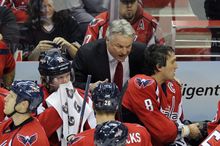 Oates is off to a good start. Ovechkin doesn't need day-to-day tutelage, but he's enjoying having an open line of communication with his coach.
"I know I can talk to him about everything," Ovechkin said. "I talk only one time to Dale all year. Right now I talk to Oatesy almost every day."
And it's not just about being there to talk, something Oates said is key to his style with all of his players. It's about understanding how a star player's mind works.
"Coaches that never [were stars], they don't understand Ovechkin. Like Dale Hunter. How is Dale Hunter ever going to understand what's inside the mind of Ovechkin? He can't. Adam Oates can," said Hull, who scored more than a third of his career goals with Oates as his linemate. "He understands the mind of a superstar scorer and the ego that goes with it and what it takes to satisfy that ego. And the ego I'm talking about isn't a bad thing; it's a hunger within that guy."
Ovechkin has an ego, no doubt about it. You don't become a two-time Hart Trophy winner without a burgeoning sense of self-confidence. Even cockiness.
Managing that and channeling it is part of what Oates was brought here to do. He coached alongside Peter DeBoer with the New Jersey Devils last year as Ilya Kovalchuk scored 23 more points than the previous year and became a better all-around player.
Oates gave credit to DeBoer, but his getting the Caps coaching job had plenty to do with how he planned to deal with stars like Ovechkin.
"We thought that that would be important, we thought that Adam's going to be a terrific communicator with the club, collectively and individually, but he's certainly going to be able to relate to the star player," general manager George McPhee said. "Adam, he's going to have a great relationship with all the players, but in particular really get along well with the top guys."
Ovechkin said the most important thing with Oates is "trust." Because he's comfortable with his new coach, the 27-year-old is trying to make the switch to right wing after spending the vast majority of his career on the left side.
The team's hope is that Ovechkin returns to all-world form from earlier in his career, when he was a 50-goal scorer. In a 48-game season that would equate to roughly 30 goals, a nice goal to shoot for in Oates' system.