BEIJING — One of Beijing's worst rounds of air pollution kept schoolchildren indoors and sent coughing residents to hospitals Monday, but this time something was different about the murky haze — the government's transparency in talking about it.
While welcomed by residents and environmentalists, Beijing's new openness about smog also put more pressure on the government to address underlying causes, including a lag in efforts to expand Western-style emissions limits to all of the vehicles in Beijing's notoriously thick traffic.
"Really awful. Extremely awful," Beijing office worker Cindy Lu said of the haze as she walked along a downtown sidewalk.
But she added: "Now that we have better information, we know how bad things really are and can protect ourselves and decide whether we want to go out.
"Before, you just saw the air was bad but didn't know how bad it really was."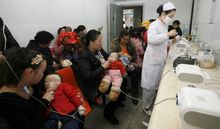 Even state-run media gave the smog remarkably critical and prominent play.
"More suffocating than the haze is the weakness in response," read the headline of a front-page commentary by the Communist Party-run China Youth Daily.
Government officials — who have played down past periods of heavy smog — held news conferences and posted messages on microblogs discussing the pollution.
No monopoly on information
The wave of pollution peaked Saturday with off-the-charts levels that shrouded Beijing's skyscrapers in thick gray haze.
Expected to last through Tuesday, it was the severest smog since the government began releasing figures on PM2.5 particles — among the worst pollutants — early last year in response to a public outcry.
A growing Chinese middle class has become increasingly vocal about the quality of the environment, and the public demands for more air quality information were prompted in part by a Twitter feed from the U.S. Embassy that gave hourly PM2.5 readings from the building's roof.
The Chinese government now issues hourly air quality updates online for more 74 cities.
"I think there's been a very big change," prominent Beijing environmental campaigner Ma Jun said, adding that the government knows it no longer has a monopoly on information about the environment. "Given the public's ability to spread this information, especially on social media, the government itself has to make adjustments."
Air pollution is a major problem in China because of the country's rapid pace of industrialization, reliance on coal power, explosive growth in vehicle ownership and disregard for environmental laws, with development often taking priority over health.