Whether President Obama approves the Keystone XL pipeline or not hinges on one key question: Which is more important to him, creating jobs and promoting energy independence or fighting climate change?
Two reports released Thursday highlight both issues, making even clearer the choice the White House faces. Mr. Obama has delayed for more than a year a final decision on the massive pipeline, which would transport Canadian oil sands through the U.S. to Gulf Coast refineries.
The project's latest route also must be approved by Nebraska Gov. Dave Heineman, a Republican whose state stands to benefit if the pipeline is built.
A study commissioned by the Consumer Energy Alliance details those benefits: more than 5,500 Nebraska jobs created during the 2013-14 construction period, with nearly 1,000 permanent jobs continuing through 2030; more than $950 million in labor income generated for the life of the project; more than $130 million in property, sales and other taxes for Nebraska coffers; and an estimated $679 million boost to Nebraska's gross domestic product.
The study, conducted by the Goss Institute for Economic Research, also predicts that the pipeline will increase overall economic activity in Nebraska by about $1.8 billion through 2029.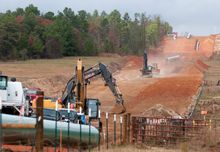 "Once Gov. Heineman and President Obama approve the pipeline, Nebraskans will be able to realize these economic benefits," the report states.
Congressional Republicans, oil and gas industry groups and other project proponents also have urged the administration to green-light the pipeline. They say it is one of the surest ways to create jobs and continue the U.S. on its path to freedom from Middle Eastern oil.
But Mr. Obama, armed with fresh political capital after his convincing re-election victory, also is facing intense pressure from environmental and conservation groups to reject the pipeline, a move that likely would kill the project once and for all. Because the pipeline crosses an international border, it requires approval from the State Department and the White House.
Another study put forward Thursday by Oil Change International, an environmental group opposed to fossil fuels, points to the carbon emissions that would be generated by Keystone. Opponents argue that by approving the project and green-lighting those carbon emissions, Mr. Obama would be raising a white flag in the war against climate change, an issue he has promised to confront in a second term and one he addressed in his election-night victory speech.
Leading climate scientists also weighed in this week, telling the president in no uncertain terms that his legacy on climate change largely depends on his Keystone decision.
"If we are to restrain the rise in the planet's temperature, it will require strong action from, among others, the planet's sole superpower. Some of that work will be difficult, requiring the cooperation of Congress. But other steps are relatively easy," wrote the group of scientists, which includes scholars from Harvard, Columbia, Princeton, Stanford and other renowned institutions.
"The year of review that you asked for on the project made it clear exactly how pressing the climate issue really is," they wrote in their brief but blunt letter. "We hope, as scientists, that you will demonstrate the seriousness of your climate convictions by refusing to permit Keystone XL; to do otherwise would be to undermine your legacy."
Environmental groups argued Thursday that Keystone would undo the steps Mr. Obama has taken to stop climate change over time. The most notable of those steps was the increase in automobile fuel-efficiency standards, but also included other moves such as an effective ban on new coal-fired power plants and the funneling of taxpayer money to wind and solar power production.
The environmental coalition — which includes the Natural Resources Defense Council and Oil Change International — is showing no signs of easing its push on the White House to quash the pipeline.
"Approving Keystone would open the gateway to dramatic new development of tar sands oil and far more harm to our climate," said Danielle Droitsch, who heads the council's Canadian efforts.