Winless in his first two games as Washington Capitals coach, Adam Oates drove to the rink Wednesday morning anxious. "I wanted that pressure," Oates said. "I want that anxiety."
Oates knew what he was getting into, but he could've done without an 0-2 start to his NHL head coaching career, especially in a 48-game season.
"Whoever's going to have a good start in this short-term season is going to have a better chance to make the playoffs," said defenseman Roman Hamrlik, who played in the last lockout-shortened season in 1995. "I think the start's huge."
The season is still in its infancy, so it's easy to brush off a couple of losses. But with so much emphasis on every game, there's already talk about urgency going into Thursday night against the Montreal Canadiens.
"I think it's time for desperation, and you've got to have it now or else you're going to be really behind," left wing Jason Chimera said. "It's a 48-game season, not an 82-game season, so you got to get going."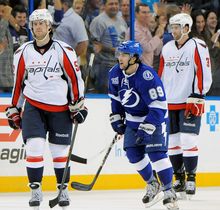 It's hard to come to grips with how worried players and coaches should be about an 0-2 start, or 0-3 or even 0-4. Sure, the New Jersey Devils started 0-3-1 in '95 and won the Stanley Cup, but the advent of three-point games makes it harder to make up ground in the standings.
The Caps are still in the beginning stages of learning how to play for Oates and, as a result, concede they're overthinking what to do on the ice.
"I definitely feel almost like a fish out of water right now. Too busy trying to be in the right position mentally instead of just being there," said defenseman Karl Alzner. "I know where to be. I'm overthinking it. I think a lot of guys are probably in the same boat."
Alzner said he and his teammates are doing that so much, "We're messing with our own brains." Indecision has been the culprit on more than a few goals scored against them.
Between games, the Caps must guard against panic that could make things get worse in a hurry.
"Desperation is important. You need it in situations, especially in big games such as this with a shortened season, but we don't want to play like a desperate hockey team in all situations," forward Matt Hendricks said. "We need to be stronger, we need to be battling harder, winning one-on-one battles and such. That's the type of desperation that we need to show."
Oates said "desperation" wasn't the right word. He'd rather talk to his team about "intensity" and being ready to play because there is such a thing as overtrying.
"There's no such thing as 110 percent," Oates said. "You got to show up to play and do your job, and we got to fix the mistakes. That's it."
Hamrlik said it's too early to worry. He knows from his years of NHL experience that with victory comes a sense of confidence.
Chimera figures that once there's a little momentum, it will snowball. Without any of that so far, it's worth wondering what the level of concern is within the Caps locker room.