Arizona Gov. Jan Brewer shocked many observers this month by opting to expand the Medicaid program in her state as part of President Obama's health care law, saying it was a good economic deal, even as her Republican counterparts in states like Georgia flatly rejected the option.
Seven months after the Supreme Court gave the green light to states to decide whether to greatly expand the federal-state health program for the poor, many Republican-led states are still grappling with whether to do it.
Under Mr. Obama's law, federal dollars would pay 100 percent of the expansion's cost for three years, starting in 2014, before scaling back Washington's contribution to 90 percent by 2020.
Some state officials, such as Ms. Brewer in Arizona, say they've crunched the numbers and have concluded that a minimal state investment can earn tremendous returns from federal coffers. But others, including Georgia Gov. Nathan Deal, said the numbers don't look so good for them, and that judging by past performance, they don't trust the federal government to meet its commitments anyway.
"If you think your taxes went up a lot this month, just wait till we have to pay for 'free health care,'" Mr. Deal told state lawmakers earlier this month. "'Free' never cost so much."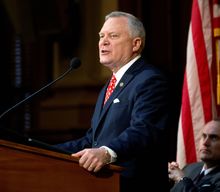 The Medicaid question is proving to be a deeper quandary for conservative-minded states than the other major decision related to Mr. Obama's reforms —whether or not to set up a virtual marketplace, or "exchange," for residents to shop for health insurance plans.
If states decline to set up exchanges, the law calls for the federal government to come in and run them. Many Republican-led states had chosen the federal option, arguing they don't want to be on the hook for bad decisions.
But in considering the Medicaid question, GOP leaders must weigh their constituents' needs against their bedrock principles of limited spending and self-reliance without federal intrusion.
"Those who do not accept the Medicaid expansion will have to give up the very attractive subsidies and leave many of their poorest uninsured," said I. Glenn Cohen, a health care expert at Harvard Law School.
In Arizona, Ms. Brewer said that the injection of federal dollars could boost the local economy, and she said Arizona would scale back its enrollment if the federal match dropped below 80 percent in future years.
"Ultimately, the decision came down to the math," said Ms. Brewer's spokesman, Matthew Benson, who noted that if Arizona doesn't sign up, other states will get its money. "Our taxpayers are paying the freight for this program, so we might as well get some of the benefit."
Unlike Ms. Brewer, some GOP governors say the price tag for "Obamacare" is simply too steep. Mississippi Gov. Phil Bryant called on his state to lower its Medicaid population through economic growth instead of "assuming enormous costs we cannot afford."
And Mr. Deal said he worries about "the dubious assumption" that the federal government will continue to pay its large share of the costs.
But Mr. Cohen, at Harvard Law, said it seems unlikely that individual members of Congress would vote to "shaft" their own states by withdrawing federal Medicaid funds down the road, especially since Democrats on Capitol Hill would be unlikely initiate such a move.
"That means that Republican governors essentially think that their Republican federal representatives and senators are going to pull the rug out from under them, and that is why they don't want to adopt the expansion," he said. "That seems implausible to me."