When Boston Bruins general manager Peter Chiarelli told Dougie Hamilton he'd be sticking around for the season, the 19-year-old defenseman wasn't surprised. That's because Chiarelli told him a week earlier, "Look, things are going well, so don't screw it up."
When Buffalo Sabres general manager Darcy Regier and coach Lindy Ruff told 18-year-old center Mikhail Grigorenko he'd be staying instead of being sent back to his junior team, the conversation was a little different.
"I asked him if he knew what the expression 'you never arrive' means, and after a little more conversation he did," Regier told reporters in Buffalo on Tuesday. "And that's the challenge. You don't arrive."
Hamilton, Grigorenko and several other rookies arrived at NHL camps and made the most of a limited opportunity. With just a week to show what they could do, players such as Alex Galchenyuk of the Montreal Canadiens and Cory Conacher of the Tampa Bay Lightning didn't waste time showing that they belonged.
"Usually rookies will have a two-, three-week period to prove themselves," Lightning right wing Martin St. Louis said. "[Conacher] didn't have that. … Obviously, I think it helps him in a way that he's been playing all year. But in terms of helping all the rookies, I don't think so because they don't get a chance to get some game time and to get more of a look, you know?"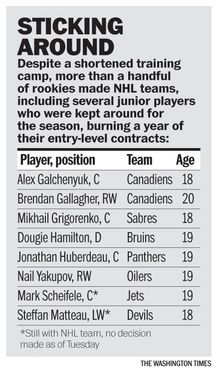 A player coming from the Canadian Hockey League is allowed to play nine games in a regular, 82-game season before burning a year of his entry-level contract. This season, a junior player can take part in five NHL games before a year is used.
Rookies didn't get the aid of exhibition games, given that a tentative deal to end the lockout came Jan. 6 and the regular season began Jan. 19. Some, like No. 1 overall pick Nail Yakupov and Edmonton Oilers teammate Justin Schultz, were locks to make rosters.
Others had to show something.
Grigorenko was at one time considered a top-five prospect for June's draft but fell to 12th, passed over by the Washington Capitals and other teams in the process. The Sabres liked his potential but weren't sure he would be ready right away.
"[Keeping him is] not something we would have traditionally done. It speaks to where we think he is and his game is," Regier said. "He had the ability to continue his development in conjunction with his ability to help us win hockey games."
Galchenyuk, the No. 3 overall pick, has been given 12 minutes a game by Montreal to prove himself. That he was able to go from playing with the Sarnia Sting in the Ontario Hockey League to the world junior tournament to Canadiens camp helped him quickly grow accustomed to the NHL.
"It was perfect to get used to that speed of the game," Galchenyuk said. "It was the best players playing against the best players, so it wasn't hard to come here after an experience like that."
It was the same for Hamilton, the No. 9 pick in 2011, who is not just playing for Boston but starring, with four assists in five games. The Bruins penciled the 6-foot-5, 199-pound defenseman into their lineup this season, on the power play and penalty kill, and it's not hard to see why.
"He's a smart, smart player," said Caps prospect Tom Wilson, who played against Hamilton in the OHL and with him during the Canada-Russia Subway Super Series. "He's got the size, he's got a heck of a shot. That doesn't surprise me that he's over there in those shoes and in that situation because he's a tremendous player."
Some tremendous, young players didn't make the cut. The Philadelphia Flyers sent center Scott Laughton back to the Oshawa Generals, and the Anaheim Ducks, New Jersey Devils and Winnipeg Jets could do the same soon, respectively, with Rickard Rakell, Stefan Matteau and Mark Scheifele.