✔ Pick of the Pack
Museum event: Corcoran Uncorked
The Corcoran Gallery of Art, Washington's largest nonfederal art museum, founded in 1869, made headlines this year because of its dire financial problems. The museum, which houses one of the largest collections of pre-1945 and contemporary American works of art, reported a $7.2 million deficit at the end of the fiscal year in June, and rumors swirled that the museum's leadership was considering abandoning the 17th Street Beaux Arts gallery to focus instead on the relatively more stable art school. The gallery is safe (for now), as leadership announced last month that the historic building would not be sold — and now, has debuted a new lineup of programs that, it is hoped, will attract new supporters. This week, the museum launches Corcoran Uncorked, a new after-hours program featuring tours, lectures and receptions. Throughout the evening, patrons can enjoy tours of the special exhibits as well as the MobileMovie Film Festival, featuring films made on mobile devices by local filmmakers.
Wednesday at the Corcoran Gallery of Art, 500 17th St. NW
Phone: 202/639-1700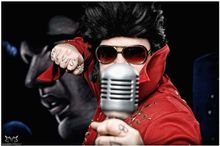 Web: corcoran.org
Theater: Elvis' Birthday Fight Club
Elvis Presley would have celebrated his 78th birthday on Tuesday — though some think he actually is celebrating it somewhere with Tupac Shakur and Princess Anastasia of Russia. Regardless, music fans and conspiracy theorists alike can celebrate the birth of the King of Rock 'n' Roll with a unique performance at Northeast Washington's H Street Playhouse. Join Elvis as he hosts an all-star "fight club" show, with burlesque dancers and yet-to-be-named famous faces duking it out during what can only be described as an outlandish variety show. Wear your blue suede shoes — in fact, wear an entire Elvis costume if you desire — and get all shook up commemorating one of the most legendary musicians (and pelvises) of all time. If you can't celebrate this weekend, the party will continue Jan. 12 in Baltimore.
Friday and Saturday at the H Street Playhouse, 1365 H St. NE
Phone: 202/321-2878
Web: fightclubshow.com
Concert: Schoolhouse Rock! Sing-Along
Reading all news generated by the fiscal cliff negotiations between President Obama and Speaker of the House John A. Boehner, it's easy to forget that they aren't the only ones who have a say in the ultimate legislation. After all, it's a long, long journey to the capital city. Our lawmakers should perhaps review "Schoolhouse Rock!," and get a refresher on the legislative process, as well as grammar, multiplication, electricity and more. The Millennium Stage, which hosts free performances daily in the Kennedy Center's Grand Foyer, will host a sing-along concert in celebration of the 40th anniversary of the television show and its catchy, educational songs. Whether you heard the originals in the 1970s and 1980s, or whether your child learned them more recently in school, it surely will bring back long-forgotten lessons for the entire family.
Sunday at the John F. Kennedy Center for the Performing Arts, 2700 F St. NW
Phone: 202/467-4600