Democrats and Republicans found little common ground Wednesday as Congress kicked off the first major gun-control debate in years, showing last month's school shooting rampage in Connecticut left emotional scars but has not broken the gridlock that has doomed gun legislation for two decades.
The Senate Judiciary Committee held the first hearing since the Sandy Hook Elementary School shooting with a surprise appearance by former Rep. Gabrielle Giffords, who was wounded in a shooting at one of her outdoor town-hall meetings in 2011 and who, along with her husband, now pushes for stricter gun controls. They asked Congress to pass legislation requiring universal background checks on all purchases and to place limits on high-capacity ammunition magazines.
"We must do something," Ms. Giffords said in a halting voice, a result of injuries suffered in the shooting. "It will be hard, but the time is now. You must act. Be bold. Be courageous. Americans are counting on you."
But just as impassioned was the plea by Gayle Trotter, a lawyer and senior fellow at the Independent Women's Forum, who said those high-capacity magazines allow women to defend themselves and their families.
"You are not a young mother who has a young child with her," she said in an exchange with Sen. Sheldon Whitehouse, Rhode Island Democrat. "And I am passionate about this position because you cannot understand. You are not a woman stuck in her house having to defend her children, not able to leave her child, not able to go seek safety, on the phone with 9-1-1, and she cannot get the police there fast enough to protect her child."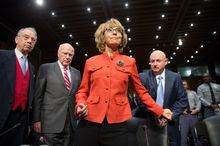 Prodded by the shooting at Sandy Hook, where a gunman killed 20 schoolchildren and six adults before taking his own life, Congress is debating broad gun controls for the first time in years.
President Obama has called for Congress to enact universal background checks, add mental health records to the national instant check system, ban military-style semi-automatic rifles and limit the size of magazines.
Democratic leaders have vowed to move legislation through the Senate, though they still are trying to figure out how far they can go.
"Previous measures to close the gun show loophole or to improve the background-check system have been bipartisan," Sen. Patrick J. Leahy, Vermont Democrat and Judiciary Committee chairman, said in his opening remarks. "I hope in this new Congress, further improvements will also become bipartisan."
But Sen. Charles E. Grassley, Iowa Republican and the ranking member of the panel, said the last time Congress tried gun restrictions, with the 1994 assault-weapons ban, it didn't stop the 1999 Columbine High School shooting in Littleton, Colo. That ban expired in 2004, and scholars said renewing it would not curb gun violence, he said.
"I also question limitations on magazine capacity," Mr. Grassley said. "Those can be circumvented by carrying multiple guns, as many killers have done. We hear that no one needs to carry larger magazines than those that hunters use to shoot deer. But an attacking criminal, unlike a deer, shoots back."
The four-hour hearing began with the dramatic appearance of Ms. Giffords, who delivered a short statement as she sat next to her husband, retired astronaut Mark Kelly.
After his wife left, Mr. Kelly made forceful arguments to change the laws, saying that if magazines had been limited to 10 rounds, 9-year-old Christina Taylor-Green, who was fatally shot at the town hall in Tucson, Ariz., in 2011, would be alive.
He also said he and his wife probably wouldn't have had to be there testifying in the first place if there were universal background checks, which would extend even to private sales.
"I can't think of something that would make our country safer than doing just that," he said.