Former Sen. Chuck Hagel appears to face an even steeper climb to become the next defense secretary after a rocky confirmation hearing Thursday in which his fellow Republicans blasted him for positions on issues and for what they called his willingness to alter positions "for the sake of political expediency."
President Obama tapped Mr. Hagel, who served two terms as a senator from Nebraska, to be an independent voice at the helm of the Pentagon.
But he faced withering questions from Republican lawmakers and some pointed queries from Democrats who said he needs to square what he now says with his past words and stances on nuclear weapons, Israel and Iran.
"I'm on the record on many issues. But no one individual vote, no one individual quote, no one individual statement, defines me," Mr. Hagel told the Senate Armed Services Committee.
His assurances and explanations over the past few weeks have won over Democrats, including the influential Sen. Charles E. Schumer of New York and Armed Services Committee Chairman Carl Levin, who will shepherd the nomination through the process.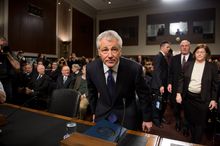 But few Republicans have been willing to publicly embrace Mr. Hagel, and key members of the party said the hearing didn't rally any support.
"I don't think he's winning any hearts and minds," said Sen. John Cornyn of Texas, the No. 2 Republican in the Senate, who already has said he opposes Mr. Hagel. "The challenge he has is really impossible to overcome, which is to reconcile his statements today with what he said and did 10, 15 years ago."
Mr. Cornyn said it's unclear whether Senate Republicans will force Mr. Hagel to overcome a filibuster and that they will make a pragmatic decision after the hearings process.
The exact timetable on Mr. Hagel's nomination is unclear, though Mr. Levin said he wants to move quickly.
He gave Mr. Hagel until Monday to answer some questions in writing and to provide copies of speeches that he has yet to disclose, and said he hopes for a committee vote late next week. That could set up a full Senate vote in mid-February.
Past battles
Part of Mr. Hagel's problem is the many battles he fought against his own party during his 12 years in the Senate — including refusing to back Sen. John McCain of Arizona, the Republican presidential nominee, in 2008.
On Thursday, Mr. McCain was pointed in his questions, demanding to know whether Mr. Hagel thought the troop surge in Iraq was a major military blunder — a stance he took in 2007 and 2008.
"Were you right or wrong?" Mr. McCain demanded.
"I'm not going to give you a yes or no answer on a lot of things," Mr. Hagel said. "I think it's far more complicated than that."
He said he now thinks the surge was one factor that helped stabilize Iraq, but he still questioned whether it was necessary or whether that could have been achieved without the additional forces and the loss of 1,200 American troops.