ANALYSIS/OPINION:
The most surprising thing about Robert Griffin III's damaged right knee — aside from the White House not chiming in on the free world's most-debated joint — is that anyone is surprised at all.
This end, the Washington Redskins' rookie quarterback writhing in pain on FedEx Field's painted dirt in the waning moments of Sunday's wild-card loss to the Seattle Seahawks, seemed inevitable. As much so as the war analogy Griffin tweeted Monday as he awaited an ominous trip to Dr. James Andrews.
"Many may question, criticize & think they have all the right answers," Griffin wrote, "But few have been in the line of fire in battle."
The wince-inducing image had barely faded. The unabashed hope of Washington's first playoff game in five years, behind the young quarterback's wonder-working legs and powerful right arm, devolved into an unsettling series of hobbles and hops and errant throws from a player whose troublesome knee clearly wasn't healthy.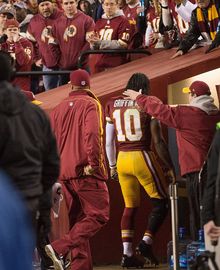 Then came the 12-yard fourth-quarter sack the old Griffin would've danced past with a routine sidestep. Next, the bad snap by center Will Montgomery. As Griffin stumbled to recover the football, his right foot planted in turf that gave away and his right knee, never mind the protective brace, and in a moment that will define the first chapter of his Redskins career, buckled like a piece of spaghetti.
Outrage followed. How could coach Mike Shanahan leave Griffin in the game after he aggravated his already-sprained lateral collateral ligament in the first half? Where was capable rookie backup Kirk Cousins? The vitriol missed the point.
Anger is the easy response when things don't turn out the way we hope. So are pointed fingers.
How easily we forget Griffin's Superman socks do come off. That the man whose image towered 74 feet over Pennsylvania Avenue on the side of the Newseum in August before he took one regular-season snap, who provided something this city's fractious politicians could actually unite behind and is serenaded by stadiumwide "R-G-3" chants is not a superhero. He's human.
For all of Griffin's poise and perfectly knotted ties and uncanny ability to do and say the right thing in almost any given situation, we forget he is just 22 years old, with the youthful confidence to match.
Remember Griffin's comments after the Cincinnati Bengals battered him to the ground 28 times?
"It's not a show," Griffin said of his toughness. "In college we say it all the time, 'Tough guys have to be tough guys.' You can't just talk tough and then play soft."
Or the barely concealed disgust when he described why coaches held him out against the Cleveland Browns?
"Protecting me from myself," Griffin said. "Not allowing me to go out there and put myself in harm's way."
Or trying to re-enter the Atlanta Falcons game after suffering a concussion that left him unable to remember the score or quarter?