Chuck Hagel faces a tough confirmation fight, but rejecting President Obama's pick to head the Pentagon would be an almost unprecedented act for the Senate, which has rarely rejected a Cabinet nominee chosen from within its own ranks.
Despite the objections of some Republicans — and even some Democrats — the president on Monday officially named Mr. Hagel, a former Republican senator from Nebraska, as his choice to succeed Leon E. Panetta, who is stepping down as secretary of defense. Mr. Obama also tapped anti-terrorism chief John O. Brennan as the next director of the Central Intelligence Agency.
"These two leaders have dedicated their lives to protecting our country," Mr. Obama said during a ceremony in the White House. "I urge the Senate to confirm them as soon as possible so we can keep our nation secure and the American people safe."
He called Mr. Hagel "the leader our troops deserve" and someone who could make "tough fiscal choices" as the Pentagon faces possible budget cuts in the coming months.
Both nominations are expected to fuel contentious confirmation hearings, but history says the president's picks will likely be confirmed.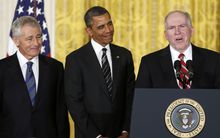 Rejections rare
Since 1789, presidents have nominated a total of 122 senators for Cabinet posts. Only one of those nominations has ever been voted down on the floor of the Senate — former Sen. John Tower, the Texas Republican who was nominated by President George H.W. Bush in 1989 to be secretary of defense.
When a nominee is truly in trouble, such as former Sen. Tom Daschle, Mr. Obama's choice for secretary of Health and Human Services in 2009, the route to a respectable defeat is usually for the candidate to withdraw his or her name from consideration.
That was what happened with Mr. Daschle, the former Senate Democratic leader from South Dakota whose nomination was undone by his failure to pay taxes on the free use of a car and driver for several years.
Mr. Hagel, a Republican, faced opposition from several Republican senators even before Mr. Obama announced his nomination. They question his commitment to Israel and his resoluteness toward Iran when it comes to its nuclear program.
Mr. Hagel has cautioned the United States and Israel against launching a military strike against Iran and infuriated some Israel backers by referring to the power of the "Jewish lobby" to members of Congress.
Hagel's critics
The Emergency Committee on Israel, which includes Weekly Standard founder Bill Kristol on its board, is running a TV ad attacking Mr. Hagel's comments.
On Sunday, Sen. Lindsey Graham of South Carolina called Mr. Hagel an "in-your-face" choice by Mr. Obama and didn't rule out launching a filibuster to try to prevent a vote on the nomination.
"Hagel, if confirmed to be secretary of defense, would be the most antagonistic secretary of defense toward the state of Israel in our nation's history," Mr. Graham said on CNN's "State of the Union."