Egypt's military on Monday threatened to intervene in the political crisis gripping the nation and gave President Mohammed Morsi and the opposition 48 hours to come up with a plan to meet the demands of millions of protesters who want the Islamist leader to resign by Tuesday evening.
The military said it would offer its own "road map" if the "will of the people" is not respected, as masses of demonstrators rallied for a second day in Cairo.
A statement by Army chief Gen. Abdel-Fattah al-Sisi, read on state TV, described the protests in Cairo and in other cities across Egypt as peaceful and civilized and stressed the importance of agreeing to the demands of the demonstrators.
---
SEE ALSO: U.S. Embassy in Cairo closed due to Egyptians' protests
---
The military said its ultimatum was a "last chance." Last week, it set a week's deadline for all sides to resolve the crisis. That deadline expired Sunday.
"Wasting more time will only bring more division and conflict," said Gen. al-Sisi, who also serves as Egypt's defense minister.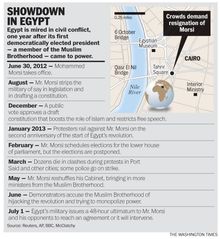 It was not clear whether the army was calling on Mr. Morsi to step down.
Hours later, the military issued a second statement saying it was not staging a coup and would not be part of a government. The military has said for several months that it has no intention of taking power, which it held for a year and a half after Arab Spring protests ended President Hosni Mubarak's 29-year rule on Feb. 11, 2011.
Mr. Morsi met with Gen. al-Sisi along with Egyptian Prime Minister Hesham Qandil late Monday, according to a statement on the president's official Facebook page.
Pro-Morsi forces reacted Monday night by rallying by the thousands in several cities, and some clashes were reported.
President Obama, who was in Tanzania on Monday, noted that Mr. Morsi was democratically and legitimately elected and urged the Egyptian leader to work with the opposition.
In Cairo, the U.S. Embassy remained closed because of the demonstrations. Two hundred Marines based in southern Europe were put on alert to deploy to Egypt to protect the American diplomats if crowds attack the embassy, and another 2,000 Marines on three U.S. warships in the Red Sea also were put on alert, CNN reported.
Mr. Morsi, a U.S.-educated engineer and a member of the Muslim Brotherhood, was elected in June 2012 as the first Islamist head of state of the Arab world's most populous nation.
Protesters accuse him of consolidating his power, undermining state institutions and failing to tackle economic and security problems that have exacerbated since he came to power. They are demanding that he step down and call early elections.
Mr. Morsi has rejected protesters' demands for elections, saying he will serve out the remaining three years of his term in office.
On Sunday night, protesters stormed the Muslim Brotherhood's headquarters in Cairo.