Homeland Security Secretary Janet A. Napolitano will be remembered for her battles over immigration, but her time in office was also defined by unpopular pat-downs and "naked X-rays" at the airport, controversy over terrorism information sharing, and struggles in dealing with emerging cyberthreats.
Helming the sprawling Department of Homeland Security, which oversees everything from the federal response to natural disasters to the Secret Service details that protect the president, Ms. Napolitano has managed her share of crises and enjoyed a few major successes, including highly praised responses to several extreme weather events.
But as she prepares to step down after more than four years in charge, it is the struggles that are likely to be remembered, in particular those of the DHS agency that interacts most with the American public and is by some measures the most unpopular agency in the federal government: the Transportation Security Administration.
'Don't touch my junk'
In 2009, two unsuccessful al Qaeda suicide plots involving underwear bombs prompted a serious rethink of aviation security.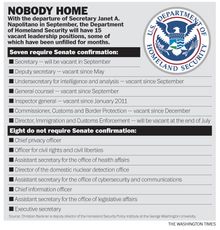 "After [the unsuccessful attempt to blow up a U.S.-bound airliner with an underwear bomb by Nigerian student Umar Farouk] Abdulmutallab, we took a look at our security measures," said a DHS official who spoke on condition of anonymity
"We are constantly evaluating and re-evaluating our procedures. [We need to] understand the structure, the design and the materials used" by al Qaeda bombmakers.
But the most high-profile response eventually deployed by DHS, the use of so-called advanced imaging technology screening machines and more intrusive pat-downs, was a PR disaster.
The scanners — which provided airport security screeners with an image of the traveler that revealed the outlines of their body under their clothes — became notorious as "naked X-ray" machines. And a man who taped himself at a checkpoint being patted down after he declined the scanning became a hero to many when he told screeners, "Don't touch my junk."
But Ms. Napolitano's approach to aviation security earned praise from an unexpected quarter over the weekend.
"Generally, they've done pretty well on aviation security," James Carafano, a scholar at the conservative Heritage Foundation said, highlighting the bilateral agreements on aviation security and information-sharing Ms. Napolitano had negotiated. "Their international partnership efforts have been very successful."
Mr. Carafano also defended the department's record on the complex and constantly evolving question of how to defend the nation from online attacks.
Since the turn of the century, national security specialists have been warning with growing urgency about the vulnerability of our online lives to fraudsters, identity thieves, hackers and other malefactors. At stake: not just individuals' privacy, bank accounts and credit ratings, but the integrity and reliability of vital national systems such as banking, the power grid and the phone system.
Mr. Carafano said the department's success had not been on the policy front, but rather in terms of "internally recognizing what the requirements are for a skilled and qualified [cybersecurity] workforce."
Policy tensions