While the reaction to George Zimmerman's acquittal in the Trayvon Martin killing resembles the backlash against the 1992 not guilty verdict in the Rodney King beating, legal analysts said there is little likelihood of another successful federal prosecution on civil rights or hate crimes charges.
Although the neighborhood watch volunteer still could face a wrongful-death civil lawsuit brought by Trayvon's family — echoes of another bitterly disputed criminal verdict: the O.J. Simpson case — the key issue in the King case, of state law enforcement officers abusing their power, is plainly not present with Mr. Zimmerman.
"In the King case, it was more of an imperative for the federal government to get involved because state actors were accused of wrongdoing," said Mark Rosenbaum, chief counsel for the ACLU of Southern California. "That's why we have a federal government."
---
PHOTOS: Photos from the George Zimmerman verdict
---
He noted that while the four defendants in the King case — Stacey Koon, Laurence Powell, Timothy Wind and Theodore Briseno — were Los Angeles police officers, Mr. Zimmerman is a private citizen. The officers were acquitted in state court of filing a false report, assault with a deadly weapon and excessive force under color of authority in the beating of King, which was videotaped and widely replayed.
The 1992 acquittal set off three days of rioting in Los Angeles during which 52 people were killed and more than $1 billion in damage was caused.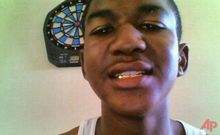 Mr. Koon and Mr. Powell then were retried on federal civil rights charges, convicted and sentenced to 30 months in prison. The Justice Department charged that the officers violated King's civil rights by repeatedly kicking and beating him after a high-speed chase. Two of the four Los Angeles officers were convicted and served prison sentences.
---
SEE ALSO: PRUDEN: George Zimmerman trial: A bitter lesson in the law
---
While the federal government has strengthened its hate crime laws since then, giving it another avenue to retry state criminal cases, applying them to Trayvon's death faces significant legal hurdles.
Montre Carodine, a law professor at the University of Alabama Law School who specializes in U.S. race relations, says the burden of proof in a federal hate crime prosecution would require the Justice Department to show that Mr. Zimmerman killed Trayvon because of his race, and that such a standard is "higher than what state prosecutors were unable to prove in a second-degree murder case."
Although the state is not legally required to prove a motive in a murder case, prosecutors presented no evidence during the trial that Mr. Zimmerman was motivated by racist hatred for Trayvon.
Jeffrey Scott Shapiro, a lawyer, investigative reporter and former prosecutor in Washington, said the 911 tape in the Zimmerman case "clearly demonstrates" that his actions were not motivated by race, but rather clothing.
Mr. Shapiro told The Washington Times that when asked what the suspicious person looked like, Mr. Zimmerman replied that he was wearing a hoodie.
"Obviously, wearing a hoodie in 90 degrees to conceal your face is suspect. The dispatcher is the one who asked about race and Zimmerman said he didn't know what race the kid was — he says, 'I don't know maybe black?' Has anyone made that point?"
Mr. Shapiro said an argument can be made that if the Justice Department is going to investigate anyone in this case, it could look at Florida state officials, who appointed a special prosecutor in response to weeks of demonstrations after police let Mr. Zimmerman go free and local prosecutors declined to press charges.
Such a probe, Mr. Shapiro said, could determine their "true motive and basis for superseding local law enforcement and pushing prosecution."
Meanwhile, the FBI failed to locate any evidence of racial bias by Mr. Zimmerman prior to the February 2012 shooting.